Looking for a healthy dinner to make? Our friend from Get Innergized with Renee has an amazong recipe for a Cobb Salad! It's really a full-on meal that's super cooling and crisp.  Lots of meats and veggies with a touch of sweetness from the dressing which results in the most amazing food rainbow that your foodie eyes have ever placed eyes on.  Well, maybe.
It's full of  Romaine and Spring Mix lettuces.  LOTS of diced tomatoes, red onion, cucumber and red cabbage. Shredded carrots and raw beets. Sliced ham, salami and turkey.  Sliced olives and bacon bits that I personally made. One hard-boiled egg, cut into four pieces.  Shredded cheddar cheese.  And Poppy Seed Salad Dressing which results in the most colorful, summery salad ever!
The best part, is that I make 4 hard-boiled eggs ahead of time. Then I place all the chopped veggies and deli meats in some zippies (zip lock bags) for storage in the fridge and then when I want to make a quick salad for lunch or dinner, everything is ready to go.
So, yeah, we eat this A LOT!
Cobb Salad isn't the most unique meal, but you can always put your own spin on it by adding ingredients you love.  And, it may seem time consuming to cut up all those yummy ingredients.  But once they're done, you're good to go for the week.  Perfect for a hot summer day, don't cha' think?  I do!
Colorfully Delicious Cobb Salad!

I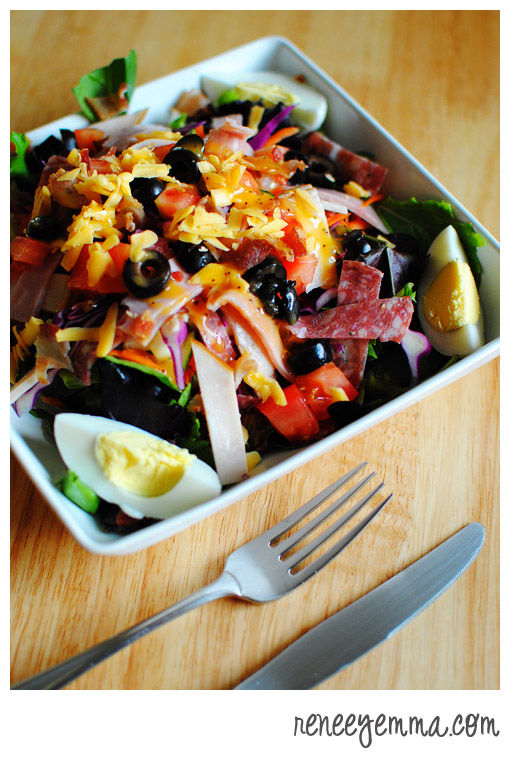 ngredients
1 to 2 heads of Romaine Lettuce, chopped
2 to 3 cups Spring Mix Lettuces
1/2 red onion, chopped
1 to 2 tomatoes, chopped
1 cucumber, chopped
1/4 to 1/2 cup chopped red cabbage
1 shredded carrot
1/2 shredded beet
1 small can sliced black olives
2 to 4 slices of bacon, cooked, and then chopped
1 handful of shredded cheddar cheese
2 slices of ham, sliced (or 1/2 ham steak, chopped)
4 slices of salami, sliced
2 slices of turkey, sliced
1 hardboiled egg
1 to 2 tablespoons Poppyseed Salad Dressing (I use Annie's)
Directions
1. Boil eggs ahead of time and then chill in refrigerator.
2. Cook slices of bacon.  Set aside.  Once cooled, then chop into bits.
3. Chop and shred all veggies.  For the carrots, I just shred them in my food processor.  For the beets, I cut around beet to take skin off, while rinsing my hands consistently so my fingers don't stay red.  Then I take my big grater and shred that way.
4. Slice deli meats.
5. Peel hardboiled egg and cut into 4 pieces.
6. Place a lettuces in a lovely serving dish.  Then add all the chopped veggies.  Then the shredded veggies.  Then the black olives. Then the bacon.  Then the cheese.  Then place the eggs anywhere you'd like them.  Drizzle your favorite dressing and you're ready to chow down!
7. Turn off all distractions, sit down by yourself or with your family, take a few deep breaths, say how much gratitude you have for your food, your family, your life and dig in, slowly and savor the deliciousness!
And in case you have problems getting a hard boiled egg to come out right: basically, you just put the eggs in the pot, then place on stove to boil. once they boil, take off heat. put the lid on, and then let sit for about 15 to 20 minutes. there may be other ways to do it, but that's what i've been doing. AND, something i just learned from husband last week (that i was NEVER doing or ever even knew) is to crack one end after you take them out of the pot to cool. just hit on counter so it cracks. he said it lets the gases out – and they were SO much easier to peel. i couldn't believe it!
©  2011 Renee Yemma ® All Rights Reserved.
Renee C. Yemma, Holistic Health Coach.  She is a mother, writer, teacher, coach, photographer and so much more.  To receive weekly healthy living articles on loving delicious, nutritious foods and putting YOU first without feeling guilty about it, visitwww.reneeyemma.com.