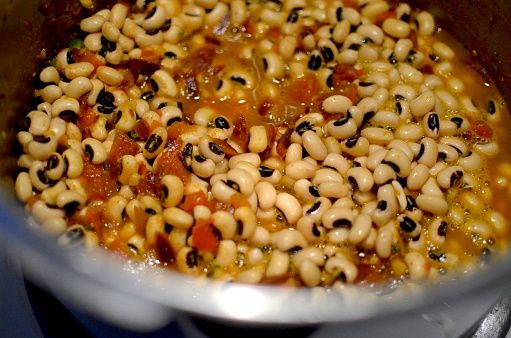 Tradition has it, that any kind of beans will be lucky to eat on New Years.  The thought behind it is that the round shape represents coins, and since they swell when you cook them, that should represent more money for those that eat it in the coming year.
In Brazil and many parts of Europe including Italy & Germany, they eat Lentils with sausages (pork is also on the lucky foods list.) In Japan, they eat sweet black beans called kuro-mame. In the Southern U.S., black-eye peas are a very traditional dish.
We discuss New Year's lucky foods in great detail on another post if you want to know why these foods are considered lucky when eaten on New Years.
We're sharing our favorite recipe for all 3 types of beans.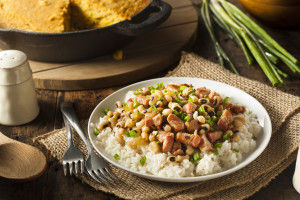 Black-eyed peas easy recipe:
Ingredients:
4 slices of bacon or 1 chorizo sausage diced
(optional:  we like to throw in left over ham from Christmas dinner or use ham hocks to deepen the flavor)
1 medium white onion, chopped
1/2 red pepper, chopped
3 cloves garlic, minced
1 package dried black-eyed peas, rinsed
3 1/2 cups water (you can also use chicken stock)
1 tsp salt
2 tsp cumin
2 tsp black pepper
3 bay leaves
Cook bacon and or chorizo in a pan for several minutes until bacon crisps or sausage is browned.  Remove from pan but use drippings to saute the onions. Cook 4 to 5 minutes until tender.  Add beans, water and seasoning.  Bring to boil. Cover and cook over medium heat for 1 hour to 1 1/2 hours until black-eyed peas are tender.  Stir every 15 minutes and add additional water if needed.
Eat alone and top with fresh scallions, cilantro and/or parsley, or eat over hot cooked white rice for added luck. Add a side of corn bread, and you have 3 lucky foods (beans, rice & corn.) We suggest adding kale or collard greens and you've covered all your basis for luck in the New Year.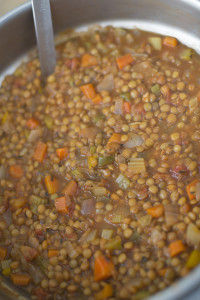 Lentil recipe (Cuban style):
This thick and hearty bean is usually served over white rice.
Ingredients:
1 cup Lentils, Rinsed
1 tbsp Vinegar
1 medium Onion, chopped
1/2 medium green pepper, chopped
2 carrots, peeled and chopped
6 cloves of garlic, minced
5 cups of Water
1 cube Chicken Bouillon
3 Basil Leaves
1 tsp Oregano
1/2 cup dry White Wine (Vino seco)
2 Bay Leaves
1 tbs Cumin
1 tsp Salt
1 tbs Pepper
1 Spanish Chorizo; (Sliced – you can also use Italian sausage or kielbasa, but it does change the flavor in our opinion)
1 small diced ham, Smoked Ham Shank; (or Bacon)
1 packet Sazon Goya (we liked the coriander & annatto version but any sazon seasoning will work)
Rinse beans in a strainer.  Add a little olive oil to your pot and saute onions, peppers, carrots, chorizo/ham or bacon over medium heat for 3 to 5 minutes.  Add a little water to prevent sticking if needed.  Add water, vinegar, bouillon cube, beans and all seasoning listed above except for the salt.  Bring to a boil and taste your broth for salt (add to taste – we usually only put 1/2 to 1 tsp).  Cook on medium-low for 40 to 50 minutes.  Stir every 15 minutes.  You may add water if you feel the beans are too thick.  If you used ham shanks, remove the bones and shred the ham off and add back into the lentils.
Option:  Some households like to add calabaza (pumpkin) and or potato to make it more for a vegetable stew.  If you choose this option, add at the time you are putting in your water, beans and seasonings.  We highly suggest this option for those that want to make a meat free version of lentils.
Eat alone or over white rice.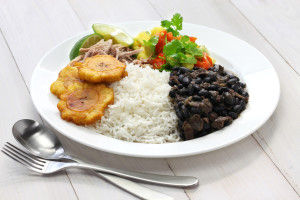 Black Beans and Rice recipe:  (Frijoles negros)
Black beans are a signature Cuban cuisine.  Can be enjoyed as a meal, or as a side served on top of white rice. The beans or course are a lucky food, but since there is no pork added, one could argue that they are not as lucky as eating lentils or black-eyed peas on New Years, however they are a great option for those that don't eat meat.
Ingredients:
2 1/2 cups black beans, dried
9 cups water
1 1/2 cups onion, chopped
1 1/2 cups green bell pepper, chopped
4 cloves garlic, mashed
1 teaspoon salt
1/2 teaspoon black pepper
2 tablespoons olive oil for sautéing
2 teaspoon oregano
2 teaspoon cumin, ground
2 bay leaves
3 tablespoons vinegar
3/4 cup dry Spanish wine (vino seco)
2 teaspoons sugar
3 tablespoons olive oil (1 initially and 2 to drizzle over beans in final step)
Soak beans overnight.  Drain and discard the water the next day.  Place in a  large pot (6 quart).  Add water and 1 tblsp olive oil.  Bring to a boil and cook for 1 to 1 1/2 hours.  (If you have a pressure cooker, then you can cook them for about 20 to 25 minutes.)  Do not drain the water at this point.  Saute the onions and green pepper in olive oil until translucent (4 to 5 minutes.)  Add garlic and saute for 1 minute.  Add to the pot of beans along with the oregano, cumin, bay leaf, vinegar and wine.  Cover and cook over low heat for 20 to 25 minutes, stirring occasionally.  Remove bay leaves.
An old trick to thicken the beans, is to take out 1 cup at this point and mash them with a fork to make a thick paste.  Then put them back into the pot with the rest of the beans.  Add salt & pepper and cook on low for another 5 minutes.  Add sugar and drizzle a couple of table spoons of Spanish olive oil over the beans. Cover and remove from heat and let stand for 10 minutes.  Serve over white rice.
Although they are very flavorful on their own, popular toppings including red or white chopped raw onions, sour cream, cilantro, parsley, scallions or chives. our favorite is a little cilantro and nothing else. Pictured above are the black beans with white rice, avacado salad and fried plantains (a/k/a tostones) with a sprig of cilantro.
Click for more New Years lucky foods menu ideas.