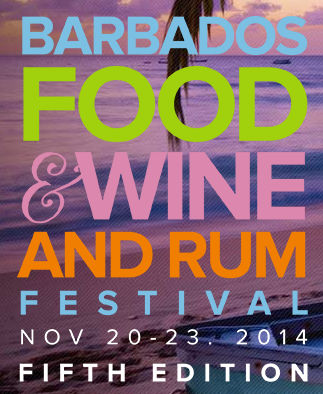 The Barbados Food, wine and rum festival will once again featured some wonderful Culinary masters including Marcus Samuelsson, Anne Burrell, Tyler Florence, Stephanie Izard, Ed Baines and Roger Mooking. The international gourmet event of the season boasts the ultimate Caribbean fare from November 20-23, 2014.
Teaming up with the island's all start chefs, the team of world renowned chefs will partake in a wide variety of demonstrations, tasting events and seminars highlighting all things food, wine and rum for the annual epicurean event. Those that attend the festival will not only learn how to prepare and enjoy food and wine pairings, but also trying new combinations of flavors.
2014 Barbados Food & Wine and Rum Festival event highlights include:
•Guests will be able to mingle with the international chefs and experience local flavor at A Night Out in Oistins. Chefs will be serving up a variety of seafood including the island's native Flying Fish on November 20. Watch a live cooking demonstration by Marcus Samuelsson, a mixology competition and a "Grill Masters" cook-off all while listening to calypso music.
•Learn innovative culinary techniques during cooking demonstrations. Guests will have the opportunity to relish the complexities of Barbados' legendary rum and gain expert knowledge on a range of hand-selected wines.
•Explore the Rum Trails at Mount Gay, Four Square and St. Nicholas Abbey to learn about each distillery and unique tasting notes.
•Sail the tranquil waters of the blue Caribbean aboard the Spirit of Barbados Luxury Catamaran during the festival's Indulgence the Cruise on November 24. Guests will swim with the turtles and snorkel the wrecks of Carlisle Bay to return to a savory meal and premium bar with only sun, sand and sea on the horizon.
•Visit authentic neighborhood eating establishments across the Country with the festival's newest dining experience Food Trails, showcasing the island's traditional and local food & beverage offerings.
•Renowned chef Tyler Florence brings his creativity and innovative culinary style to one of the most exquisite seaside settings, The Cliff restaurant, for an evening of sumptuous cuisine, conversation, crashing waves and panoramic views of the Caribbean Sea.
•Luis Torres, Co-Founder and Director of Constellation Academy of Wine hosts The Liberation of Food and Wine Dinner offering guests a chance to explore food and wine parings in a whole new light. Guests will journey through distinct flavor profiles and specific types of wine pairings.
•Experience the Barbados Culinary Team at Bajan Fiesta, comprised of award-winning chefs and mixologists.
•Savor it all at Ambrosia V, where international guest chefs join local chefs to serve up a variety of sample-sized dishes. Guest can sample the latest fare and mingle amongst an elegant island backdrop at Ilaro Court.
•Explore and savor Mount Gay Rum, the oldest rum in the world, at the historic rum distillery in St. Lucy, and learn about Where the Rum Comes From. Start by following the brand's 310-year rich history of rum-crafting experience at the Mount Gay Visitors Center then enjoy a traditional Bajan lunch on November 23.
For a full schedule of events and to purchase tickets for the 2014 Barbados Food & Wine and Rum Festival, please visit www.foodwinerum.com or www.visitbarbados.org.