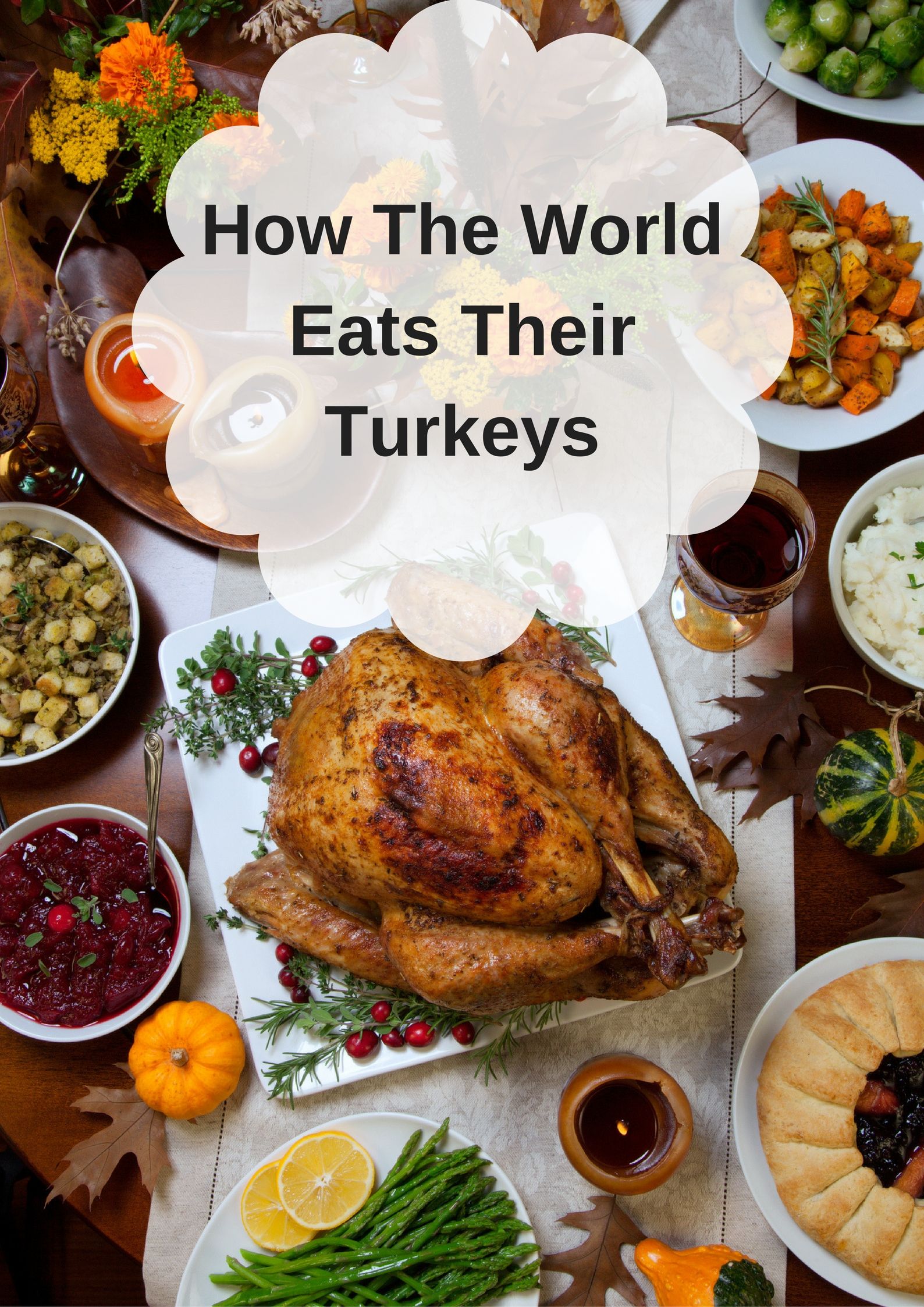 For many of us, roasting a turkey means tossing the bird in the oven and calling it a day. But there's a whole world of fabulous flavor beyond basic Thanksgiving fare. Take your turkey on a global tour – from India's spice markets to Italy's hillside vineyards – with cultural recipes that infuse heritage and tradition into every bite. We've gathered turkey dishes as diverse and wondrous as the countries that created them. Follow us on this culinary journey that will bring new meaning to the phrase "tastes like home."
Spice Up Your Bird, Asia-Style
The aromas of ginger, lemongrass, and sriracha will have your mouth watering as you prepare this Asian-inspired turkey. Mix a zesty marinade of mayonnaise, spicy sriracha, grated ginger, and lemon zest. Carefully loosen the skin and massage the marinade directly onto the breast and thighs. The meat takes on a reddish hue as the chicken roasts, becoming tender and full of flavor. Serve alongside jasmine rice and a bright, crisp Asian slaw with rice vinegar and sesame oil.
A Mediterranean Masterpiece
This Greece split turkey recipe takes some skill but rewards you with a gorgeous, smoky bird. Carefully remove the backbone with a sharp, thin-bladed knife, then press firmly to flatten the breast and open it butterfly-style. Brush on a marinade of coriander seeds, mint, garlic, lemon, and olive oil. As it roasts, the aroma of the herbed marinade fills the kitchen. The split turkey technique allows the meat to absorb more smoke flavor from the charcoal. Serve with roasted vegetables, crusty bread, and a hearty Greek red wine.
Indian-Inspired and Fragrant
Rubbing a mixture of yogurt, spices, and garlic onto the turkey creates a rich, aromatic Indian take on roasted turkey. The tang of the yogurt paired with the sweetness of cinnamon and the heat of red chili makes for complex flavors. Turmeric and garlic add earthiness. There's no need for basting as the paste helps keep the meat very moist. Serve it over fluffy basmati rice with flatbread and chutney on the side for flavors of India.
Smoky Peruvian-Style Grilled Turkey
Get your grill very hot to make the Peruvian favorite, tacu tacu. Duck fat and butter help keep this grilled turkey incredibly moist and full of flavor. After zesting an orange and lemon over the bird, tuck balls of butter and duck fat under the breast skin. Tie them in place. The fat bastes the meat while it is grilled over the hot coals, as smoke from the charcoal infuses it with richness. Top slices of the juicy turkey with aji pepper sauce for some Peru kick.
A Crispy Chinese Take on Turkey
This recipe puts a flavorful spin on turkey with sweet and sticky glazes reminiscent of Chinese barbecued meats. Start by rubbing the bird with five-spice powder, rice wine, soy sauce, honey, and sesame oil. Let it marinate overnight for the best flavor. Roast the turkey low and slow until the skin gets an amber glaze. The meat pulls back from the bone, becoming fall-apart tender. Slice and serve with sticky rice, bok choy, and a tart passionfruit sauce. It makes for finger-licking good eating!
Down-Home Southern Fried Turkey
You'll need a large pot, a turkey fryer kit, and lots of paper towels for this messy, delicious way to prepare turkey. Peanut oil gets heated to 350 degrees Fahrenheit, so use caution when lowering the bird in with long cooking tongs. The turkey fries for about 45 minutes to an hour, coming out with an incredibly moist interior and shatteringly crispy, golden skin. Drain it well on a cooling rack. Slice up the juicy fried turkey and serve on top of classic Southern sides like mashed potatoes, collard greens, baked beans, and biscuits.
Brazilian Churrasco-Style Turkey
This recipe calls for marinating a whole turkey in a garlicky, lime-accented blend. Skewer the turkey onto a rotisserie spit and cook slowly over a Brazilian churrasqueira grill loaded with smoldering wood charcoals. Baste it often with more marinade using a long brush. The turkey gets infused with sweet smokiness and the skin gets deliciously crisped. Carve thin slices straight from the spit to serve alongside roasted plantains, black beans, tomato salad, and pão de queijo cheese bread. Caipirinhas made with muddled lime and cachaça liquor would be the perfect partner.
A Moroccan Feast of Flavors
Transport your tastebuds to the souks of Marrakesh with this aromatic Moroccan-spiced turkey. Blend together a paste of cumin, ginger, coriander, saffron, cinnamon, paprika and cayenne pepper. Carefully loosen the skin and rub it all over the breast, thighs, and drumsticks. Roast slowly so the flavors have time to permeate the meat. The aroma as it cooks is incredible. Serve with couscous seasoned with stock from the turkey pan, along with roasted carrots, onion confit, and fresh pomegranate seeds for a dazzling Moroccan meal.
Tandoori Turkey Kebabs
This recipe uses a fragrant yogurt marinade with classic Indian tandoori spices like cumin, cloves, cardamom, and Kashmiri chile powder. Cut the turkey into large chunks and let it soak up the flavors overnight. Slide the pieces onto metal skewers. Cook them in a blazing hot tandoor oven or over hot coals on the grill, turning frequently, until lightly charred. The turkey gets wonderfully smoky and juicy. Pair with onion raita, grilled peppers, and naan bread to dip the juices.
Italian Stuffed Turkey Ballotine
This elegant dish takes work but delivers a beautiful, lavish entree for special occasions. Bone out a whole turkey and lay it flat skin-side down. Cover with thin slices of prosciutto, garlic, sage, and grated parmesan. Carefully roll and tie it into a tight log shape with kitchen string. Roast it gently until the meat is tender and the juices clear. Slice into spirals, revealing the colorful filling. Serve it family-style with individual platters of roasted squash, braised greens, polenta, and a bold Italian red wine that can stand up to the flavors.
Turkey Roulade with French Flair
This stuffed turkey breast is an impressive centerpiece, showing off your kitchen finesse. Slice a whole turkey breast horizontally to yield two thin cutlets. Pound them to an even thickness and layer with a rich stuffing of caramelized onion, garlic, spinach, Gruyère, and fresh herbs. Carefully roll up the cutlets, tie them securely, then roast them to golden perfection. Let the roulade rest before slicing into spirals with the vibrant green filling revealed. Serve this showstopper with braised endives, potato dauphinoise, and a French Burgundy wine. Voilà!
Jamaican Jerk Turkey
This spicy, hedonistic marinade prepares your turkey for a Caribbean vacation. Blend scotch bonnet chilies, onion, garlic, thyme, allspice berries, nutmeg, cinnamon, and brown sugar for an intoxicating jerk paste. Loosen the skin and massage it all over the turkey, including the cavity. As it roasts, the house fills with sweet and spicy aromas. The turkey gets bronzed outside and fully flavored. Slice up the tender, fall-off-the-bone meat to enjoy alongside rice, beans, fried plantains, and grilled pineapple. Heat, sweetness, and smoke make an unbeatable island-style turkey.

From Asia's ginger-lemongrass kick to Jamaica's scotch-bonnet heat, we hope you've enjoyed this trip around the world inspired by the noble turkey. Different cultures celebrate and honor humble ingredients like poultry in many incredible ways. We encourage you to get into the kitchen with family and friends to recreate these global flavors and make new traditions and memories of your own. An
Other posts that may interest you:
How The World Celebrates Thanksgiving