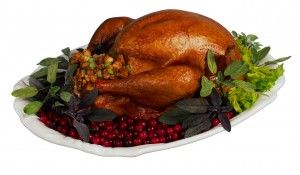 Have questions on how to prepare the perfect Thanksgiving turkey?
Butterball has given consumers a number of ways to contact them. You can email, post a question on Facebook, post a question on Twitter or call their turkey hotline at 800-288-8372. We tried all of them yesterday to see which one would get us the fastest response.  The hold time for the turkey hotline was 41 minutes, and then it took 6 minutes to get an answer to our question, which was how long do you wait before carving a turkey.  The twitter response took about 40 minutes and the Facebook response took 26 minutes. Email was the fastest, with a response in just 17 minutes. 
Before you ask a question, Butterball has a great section on their website with tips, so check their first to see if your question has already been answered.
We hope you have a wonderful Thanksgiving!