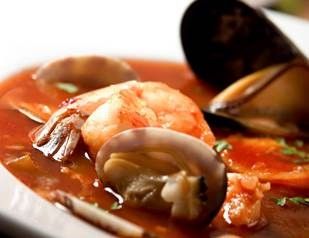 Compliments of Cunard Cruise Line, here is a recipe from the Queens Grill Selection for Seafood Bouillabaisse. It's a lot of work, but it's excellent. You can certainly save time by using prepared fish stock, but we suggest making your own broth.
Fish Stock:
2 tbsp olive oil
1 celery stock
1 onion
1 fennel bulb, cored & chopped
4 garlic cloves, cut in half
2 bay leaves
2 cloves
1 cup whie wine
3 lbs. fish bones
20 cups of water
Broth:

2 tbsp olive oil
2 1/2 lbs lobster  shells chopped
1 onion, chopped
1 celery stalk, chopped
1 leek, chopped
4 large fresh tomatoes, chopped
1/4 blub fennel
4 garlic cloves
2 tbsp tomato puree
1 cup white wine
8 cups fish stock
4 cups chicken stock
2 sprigs thyme
1 sprig lemongrass
2 bay leaves
2 cloves
20 fennel seeds
1 pinch saffron
Seafood:
1 tbs. olive oil
1 shallot, finely chopped
1 lobster tail, cut into pieces
1/2 lb Chilean Sea Bass cut into pieces
1/2 lb mussels
8 medium shrimp
12 clams
4 tbsp Pernod
Rouille:

6 garlic cloves
2 pinches salt
1 pinch saffron
4 new potatoes, cooked thoroughly
1 tbsp Dijon mustard
1 tbls tarragon vinegar
1 tbsp water
2 tbsp extra virgin olive oil
1 pinch white pepper
1 pinch cayenne pepper
Preparation:
Fish Stock:  Heat the olive oil in a stock pot.  Seat all of the vegetables along with garlic, bay leaves and cloves slightly in the oil.  Add the white wine and fish bones and sauté until vegetables are cooked, yet firm.  Add water. Simmer for 20 minutes and strain through a sieve. Set aside.
Broth:  Heat the olive oil in a sauté pan.  Add the chopped lobster shells and roast them slightly.  Add all vegetables to the lobster shells and sweat until golden brown.  Add tomato puree and mix well. Deglaze with white wine. Add fish and chicken stock.  Add remaining ingredients and simmer the broth for 25 minutes, then strain.
Seafood:  Sauté all seafood in a pot with olive oil and finely chopped shallots and sweat for 2 minutes.  Deglaze with Period, add the broth and then simmer gently for one minute.  Remove from the heat and serve with the rouille.
Rouille:  Crush the garlic with the salt and saffron into a puree. In a blender, add the cooked new potatoes.  Dion mustard, vinegar and water.  Blend while adding the olive oil little by little.  Season with white and cayenne pepper.
More cruise line recipes