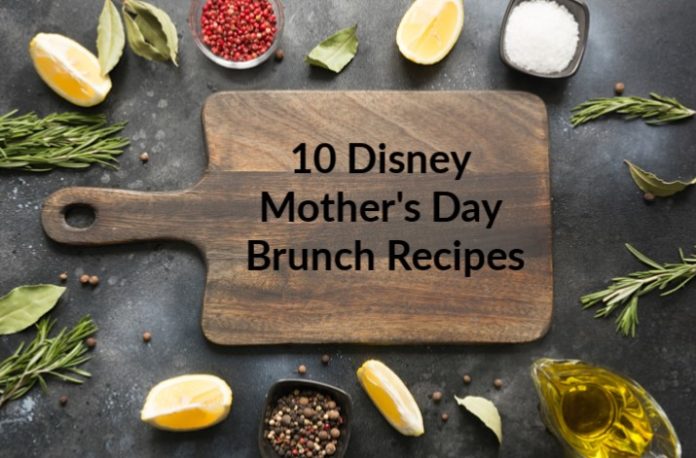 We are all looking forward to the near future where we can once again experience the magic of the Disney parks and resorts. Shanghai Disney Resort will begin a phased re-opening on May 11th, and we anticipate that Walt Disney World Orlando will begin re-opening this summer. Disney Cruises & Adventures by Disney vacations are also expected to begin someone in July.

Travel will return soon. Until then, we wish you and your families health, hope & happiness.
10 Disney Mother's Day Brunch Recipes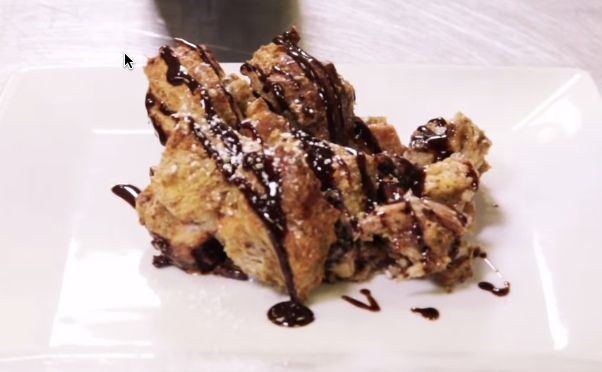 Chocolate, Peanut Butter, Banana French Toast Recipe
This popular breakfast french toast will satisfy any sweet tooth. It's a seasonal dish that can be found on the menu at Disney's PCH Grill at Disney's Paradise Pier Hotel.
Ingredients
8 thick slices day-old challah bread
2 ripe bananas
1/4 cup chocolate chips
1/2 cup creamy peanut butter
6 eggs, lightly beaten
3/4 cup low-fat chocolate milk
1 teaspoon ground cinnamon
1/4 teaspoon salt
Chocolate syrup and powdered sugar, optional
Directions
Preheat oven to 350ºF. Coat a 9x13x2-inch baking pan with nonstick spray. Set aside.
Cut bread into 1-inch cubes and place in a large bowl. Slice bananas into 1/2-inch slices, and add to bowl. Stir in chocolate chips.
Combine peanut butter, eggs, chocolate milk, cinnamon, and salt in a blender. Process until smooth.
Pour egg mixture over bread mixture. Stir gently until bread cubes have absorbed egg mixture.
Pour mixture into prepared baking pan. Bake for 35 to 40 minutes, or until top is golden brown.
Before serving, drizzle with chocolate syrup and dust with powdered sugar, if desired.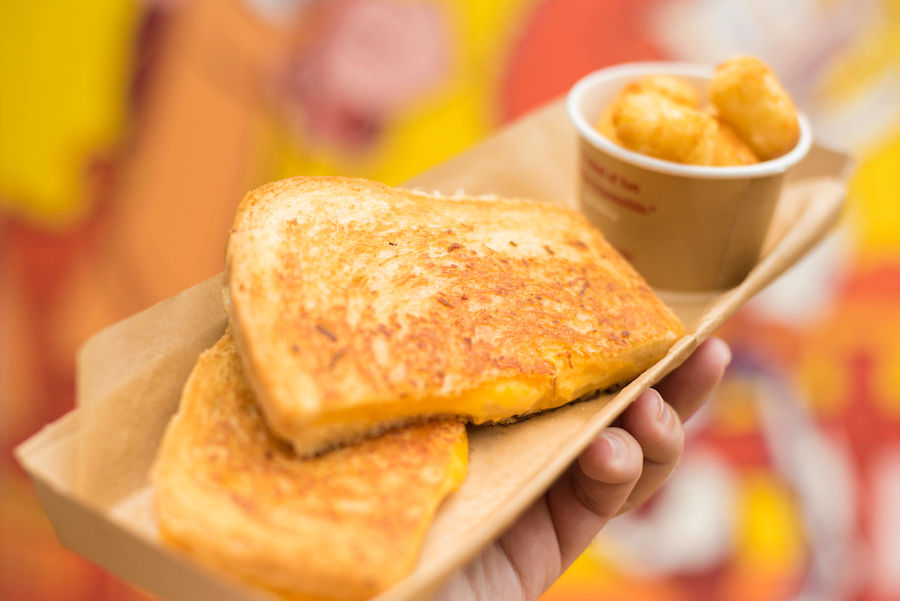 Grilled Three-Cheese Sandwich Recipe from Woody's Lunch Box at Disney's Hollywood Studios
Disney Parks manage to make even this simple comfort dish taste amazing. Is it the 3 types of cheese? The savory garlic bread? Disney recently released this recipe oozing with cheesy goodness so that you can enjoy it at home.
Ingredients:

Cream Cheese Spread
1/2 cup cream cheese
1/2 cup shredded Double Gloucester or cheddar
2 tablespoons heavy cream
1/4 teaspoon coarse salt
Garlic Spread
1 cup mayonnaise
1 1/2 teaspoons minced garlic
1/2 teaspoon coarse salt
Grilled Three-Cheese Sandwich
8 slices of artisan bread
8 cheddar cheese slices
8 provolone slices
Instructions:

For Cream Cheese Spread:
Combine cream cheese, Double Gloucester or cheddar, heavy cream, and salt in food processor. Blend until smooth. Set aside.
For Garlic Spread:
Combine mayonnaise, garlic, and salt in small bowl and stir until blended. Set aside.
For Grilled Three-Cheese Sandwich:
Lay out artisan bread slices on parchment paper or large cutting board.
Place 2 slices of cheddar on 4 of the bread slices. Place 2 slices of provolone on remaining bread slices.
Equally spoon cream cheese spread on slices with provolone. Gently smooth cream cheese spread over each slice.
Press cheddar side and provolone side together.
Heat a large skillet over medium heat for 5 minutes, until hot.
Brush both sides of the sandwiches with garlic spread.
Grill sandwiches for 2 minutes on each side, until cheese is melted and bread is golden brown.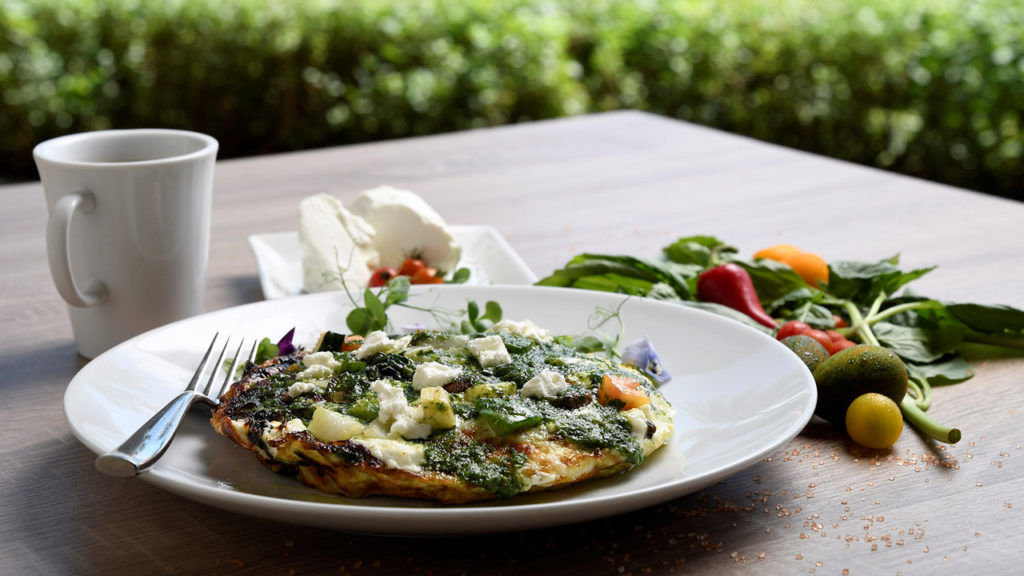 Egg White Vegetable Frittata with Macadamia Nut Pesto at Aulani, a Disney Resort & Spa
Aulani, a Disney Resort & Spa in Hawaii, offers a ton of delicious breakfast options. This island-inspired frittata with egg whites & veggies is a great way to start the day.
MACADAMIA NUT PESTO
1 cup tightly packed basil leaves
3 tbsp. grated parmesan cheese
1 tbsp. chopped macadamia nuts
2 cloves garlic
6 tbsp. olive oil
Salt, to taste
Pepper, to taste
EGG WHITE FRITTATA
1 tbsp. butter
2 tbsp. olive oil
1/4 cup diced eggplant
1/4 cup diced onion
1/4 cup diced mushroom
1/4 cup diced zucchini
1/4 cup diced artichoke heart
1/4 cup diced tomato
16 egg whites
1 cup shredded mozzarella cheese
1/4 cup goat cheese
1/2 cup basil pesto
FOR MACADAMIA NUT PESTO:
Combine all ingredients in the bowl of a food processor. Pulse until smooth.
Add salt and pepper to taste. Set aside.
FOR EGG WHITE FRITTATA:
Preheat oven to 350°F. Grease four (8-ounce) individual casserole dishes with butter. Set aside.
Heat olive oil in a medium sauté pan for 5 minutes, until hot.
Sauté eggplant in the oil for 2 minutes. Add onion and cook for 3 minutes, until it begins to soften.
Add mushrooms, zucchini, artichoke heart, and tomato and sauté for 2 minutes. Remove from heat.
Place 4 egg whites in each casserole dish. Add 1/4 of the vegetables to each dish.
Bake for 20 minutes, until eggs are set.
Top each frittata with 1/4 cup of mozzarella, 1 tablespoon of goat cheese, and 2 tablespoons of pesto. Bake for 3-5 minutes, until cheese begins to brown.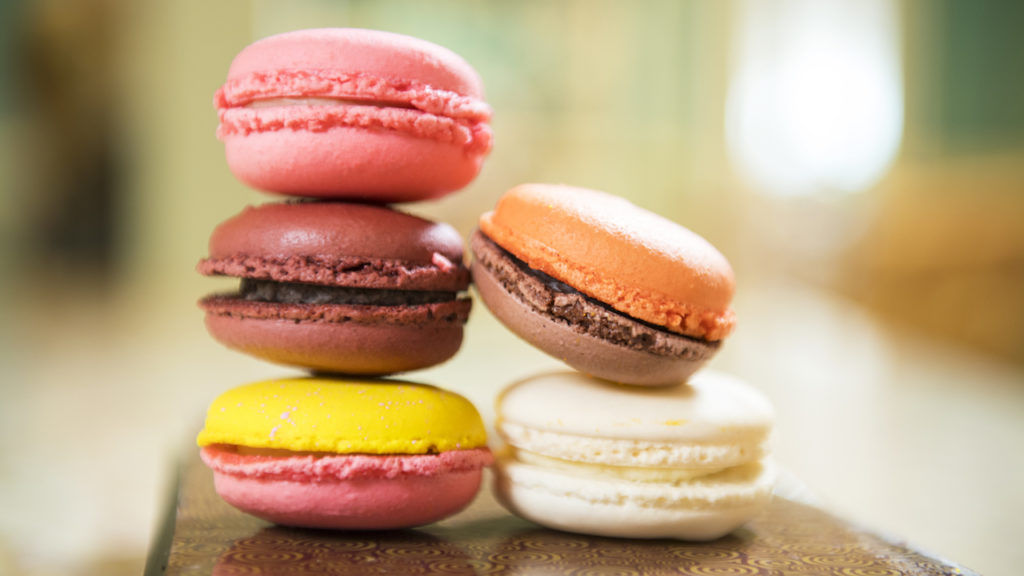 Raspberry Macarons from Sweet on You Aboard the Disney Fantasy
Sweet on You is an amazing shop onboard the Disney Fantasy cruise ship. If anyone has tried making macarons at home, they are not easy! Our tasted good but didnt keep their nice shape. Here is Disney's recipe if you would like to try.

Makes 20 macarons

Ingredients:
1 cup powdered sugar
1 cup almond blanched flour
2/3 tbs egg whites, divided
½ tsp red food coloring
1 cup granulated sugar
½ cup purified water
1 cup raspberry jam
Directions:

1. Preheat oven to 300 degrees F.
2. Combine powdered sugar and almond flour in an electric mixer until fine. Add 1/3 tbs egg whites and food coloring to make a paste in the electric mixer.Note: Make sure the egg whites are room temperature before using.
3. Boil the sugar and water in a small pot and bring to 260 degrees F. Whip 1/3 tbs egg whites. Pour the hot sugar syrup into the egg whites on the side of the bowl and whip at a high speed until thickened to form the meringue.
4. Add 1/3 of the meringue to the almond flour mixture and combine, repeating with the rest of the meringue and making sure to deflate the mixture.
5. Fill a piping bag with a round #6 tip with the mixture. Place wax paper onto a baking sheet, and pipe the mixture into ¾ inch round discs onto the sheet. Let sit for 35 minutes before baking in the oven.
6. Place the macaroons in the oven and immediately turn down the oven temperature to 285 degrees F. Bake for ten minutes and then take out of the oven to cool.
7. When cool, turn over half of the macarons and pipe raspberry jam on the flat surface. Place another macaron on top of the jam.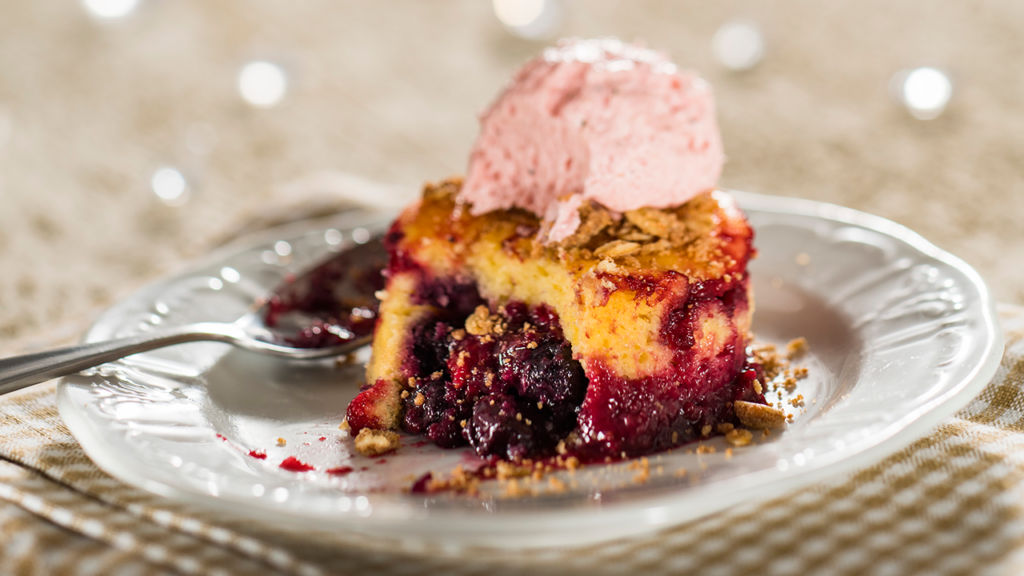 Berry Buckle Recipe from the All-New Berry Basket Outdoor Kitchen at Epcot
The EPCOT annual International Flower & Garden festival is a great time to visit Disney. Along with this annual festival comes this famous Berry Buckle dessert. They serve it with a pepperberry sorbet, but you of course can use your favorite toppings. We used whipped cream and it was amazing.
BERRY COMPOTE
2 tablespoons lemon juice
3 tablespoons orange juice
1/2 cup sugar
2 tablespoons cornstarch
1/2 cup frozen blackberries, thawed
1/2 cup frozen raspberries, thawed
1/2cup frozen blueberries, thawed
2 cup quartered fresh strawberries, divided
2 cups fresh blueberries
OATMEAL STREUSEL
1/3 cup all-purpose flour
1 tablespoon ground cinnamon
1/4 cup brown sugar
1/3 cup oatmeal
1/2 cup butter, melted
CAKE
1 1/3 cups all-purpose flour
2 1/2 teaspoons baking powder
1/4 teaspoon salt
1/3 cup shortening
1 cup sugar
2 eggs
2/3 cup milk
3/4 teaspoon vanilla extract
TOPPING
Strawberry ice cream
FOR BERRY COMPOTE:
Combine lemon juice, orange juice, sugar, and cornstarch in a large bowl. Add thawed blackberries, raspberries, blueberries, and 1 cup of the fresh strawberries. Puree using an immersion blender until smooth.
Gently fold in the fresh blueberries and remaining 1 cup of strawberries.
Set aside.
FOR OATMEAL STREUSEL:
Preheat oven to 325°F. Line a baking sheet with parchment paper or a silicone baking mat.
Mix all-purpose flour, cinnamon, brown sugar, and oatmeal in a medium bowl. Pour melted butter over dry ingredients and mix until wet.
Sprinkle on prepared baking sheet and bake for 8 minutes. Cool for 20 minutes and crumble.
FOR CAKE:
Preheat oven to 325°F. Spray eight 8-ounce ramekins with non-stick cooking spray.
Combine all-purpose flour, baking powder, and salt in a small bowl. Set aside.
Cream shortening and sugar in the bowl of an electric mixer fitted with a paddle attachment until fluffy.
Beat in eggs, one at a time, making sure to scrape the sides of the mixer.
Add 1/2 of the flour mixture, and half of the milk, mixing well. Add remaining flour and milk. Mix in vanilla.
TO SERVE:
Place 1/3 cup of cake batter in the bottom of each prepared ramekin. Top with 1/3 cup of berry compote.
Bake for 25-30 minutes, until cake is set.
Cool for 5 minutes. Turn warm berry buckles onto a plate. Top with oatmeal streusel and strawberry ice cream.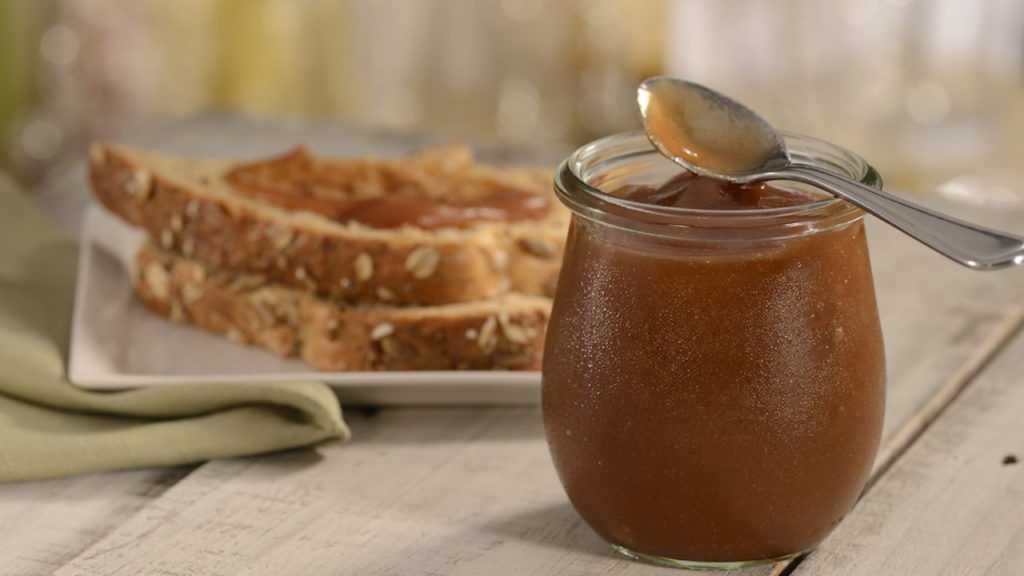 Apple Butter Recipe from Narcoossee's Waterfront Brunch at Disney's Grand Floridian Resort & Spa
Common uses for apple butter are to are to spread it on toast, bagels, pancakes or waffles. We have some other interesting ideas you may want to try. Stir it into oatmeal. Serve it with cheese & crackers. Swirl a little into cupcakes or cake mixes before baking. Brush it on chicken or pork in the last 10 minutes of baking.
Makes 1 Pint
6 cups Fuji apples, peeled and cut into 1/2-inch cubes
1 cup apple juice
1/4 cup brown sugar
1/4 teaspoon salt
1/2 teaspoon lemon juice
1/2 teaspoon ice wine vinegar or balsamic vinegar
1/2 teaspoon ground cinnamon
1/4 teaspoon ground cloves
1/4 vanilla bean
Place apples, juice, brown sugar and salt in a large saucepan. Bring to simmer over medium heat. Cover and reduce heat to low. Continue simmering for 20 minutes, or until apples are soft. Remove from heat.
Stir in lemon juice, vinegar, cinnamon and cloves. Split vanilla bean in half, lengthwise and scrape out seeds with a knife. Add to pan and puree with an immersion blender until smooth.
Return saucepan to stove and simmer over low heat, stirring every 5 minutes, for 30 minutes, until mixture is a deep amber color and apple butter reaches desired thickness.
Strain through a fine mesh sieve to remove any excess liquid.
Store in refrigerator for up to 7 days.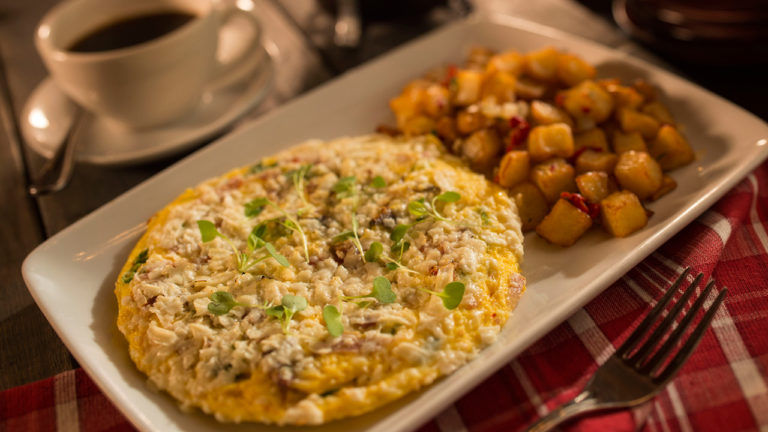 Prosciutto Frittata from Trattoria al Forno at Disney's BoardWalk
Makes 4 servings
3 teaspoon extra virgin olive oil
¾ cup slices prosciutto, cut into ½ inch squares (approximately 3 ounces by weight)
6 tablespoons diced red pepper
9 farm fresh eggs, lightly beaten with a fork
2 tablespoons diced green onion
3 teaspoons grated Pecorino Romano cheese
1. Pre-heat oven to 425 degrees
2. Heat oil in 10-inch nonstick, oven-safe skillet over medium-high heat until oil is hot.
3. Add prosciutto, stir continuously, cook until crisp, about 3-4 minutes.
4. Reduce heat to medium, add red peppers to the skillet, cook until softened, 2-3 minutes.
5. Remove the skillet from the burner momentarily, stir in eggs and green onion.
6. Return to burner, as eggs begin to cook, pull eggs in around the edge to allow uncooked mixture to flow to outer edges of the skillet, cook about 3 minutes until most of the egg is no longer runny.
7. Bake uncovered on the top rack of the oven till center is set, approximately 2- 5 minutes.
8. Remove from oven, sprinkle cheese on top, loosen frittata from side of skillet with spatula, slide onto plate, cut and serve.

Cook's Notes: If desired, thick-cut bacon may be substituted for the prosciutto.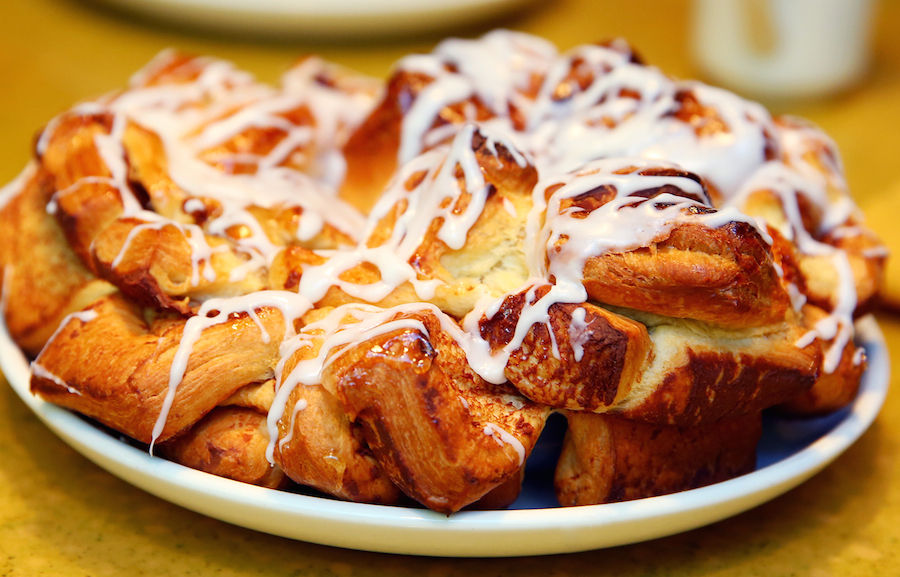 Chip's Sticky Bun Bake from Garden Grill Restaurant at Epcot
Yield 6 – 8 servings
Cinnamon Smear
1 1/4 cup margarine, softened
2 teaspoon cinnamon
2 1/4 cup brown sugar
2 eggs
Sweet Cinnamon Dough
1 cup milk
2/3 ounce cake (fresh) yeast, crumbled (approximately 3 tablespoons loosely packed)
1/4 cup sugar
1/2 cup butter, softened
Pinch of salt
1 teaspoon cinnamon
3 cups bread flour
2 room temperature eggs
Icing
1 teaspoon milk
1 1/2 cups confectioners' sugar
4 tablespoons butter, softened
1 teaspoon vanilla extract
For cinnamon smear:
Cream together margarine, cinnamon and brown sugar.
Add eggs one at a time, scraping bowl after adding each egg. Mix well and place in refrigerator.
For sweet cinnamon dough:
Heat milk in small sauce pan to 90 – 95 degrees Fahrenheit. Remove from heat, add cake (fresh) yeast, whisk until dissolved, set aside.
Mix sugar, butter, salt, cinnamon, eggs and flour in large bowl, until smooth.
Add yeast mixture slowly, stirring until dough comes easily away from sides of bowl.
Knead dough on lightly floured surface for 5 to 10 minutes.
Place dough in large bowl, cover bowl with plastic wrap. Let dough rest 10 minutes or until doubled in size.
Coat bottom and sides of 12 inch cake pan or 9 x 13 inch pan with butter.
Punch down dough, knead it a few times, roll out on a floured surface into a 15 by 10-inch rectangle.
Spread cinnamon smear over dough. Roll up dough beginning at the 15-inch side and pinch edge together to seal.
Cut into 1 inch slices, quarter each slice, place pieces close together in pan.
Cover, let dough rise in a warm place until doubled in size, about 45 minutes.
Preheat oven to 350 degrees, bake about 30 minutes or until golden brown.
For icing:
Mix milk, confectioners' sugar, softened butter and vanilla extract together in a small bowl until smooth.
Drizzle over warm bun.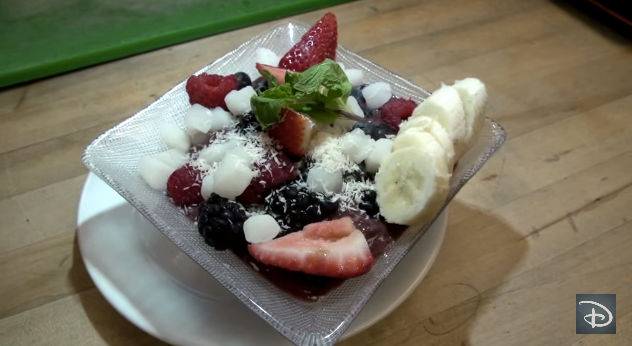 Acai Bowl at 'AMA'AMA at Aulani Resort & Spa
Serves 4
3/4 cup acai purée
1 cup frozen strawberries
1 cup frozen blueberries
2 bananas, divided
1/4 cup local honey, more for drizzling
1/2 cup organic granola
12 slices starfruit
1/2 cup poha berries
1/2 cup fresh strawberries
Fresh mint leaves, for garnish
Blend purée, strawberries, blueberries, 1 banana, and honey in a blender on high speed. Pour into 4 small serving bowls.
Top each with even amounts of granola, starfuit, poha berries, strawberries, and banana. Drizzle to taste with honey and garnish with mint.
Chef's note: Acai is a reddish, purple berry that comes from the acai palm tree which is native to Central and South America. High in antioxidants, the flavor is described as a cross between a rich blackberry or raspberry and a piece of dark chocolate. The sweet-tart poha berry is a relative of the tomatillo that looks like a cherry but tastes more like a tart tomato. Acai purée can be found in the freezer section of local health food stores.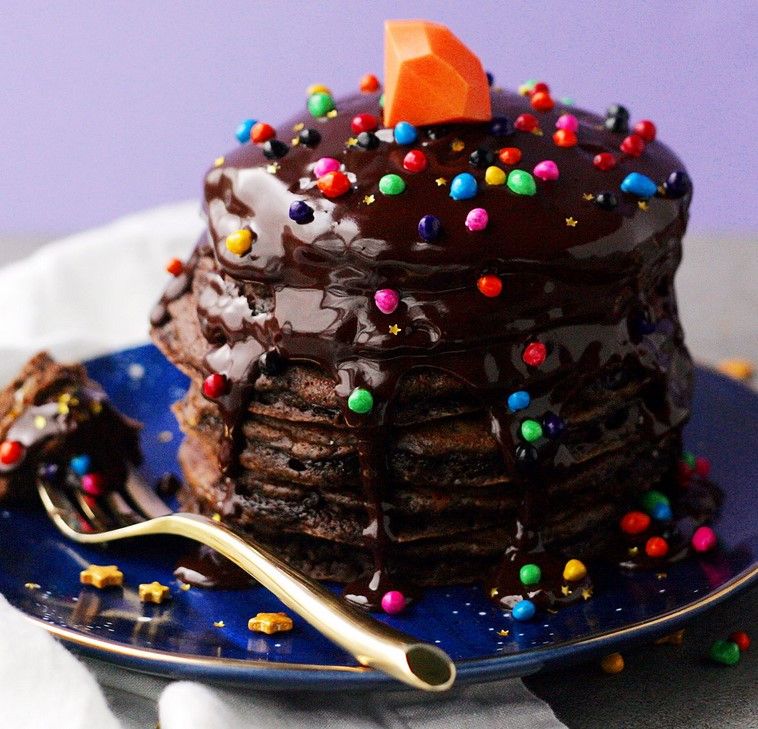 Onward Pancake Recipe

This recipe was inspired by the move Onward recently released on Disney+ Light, fluffy, and full of fudgy chocolate, these pancakes are super simple to whip up using your favorite cake or brownie mix.
Ingredients
Brownie Batter Pancakes:
2 large eggs
1 cup milk
1 teaspoon vanilla extract
1 cup pancake mix
1 cup fudge cake mix or brownie mix
3 tablespoons unsweetened cocoa powder
1/3 cup semi-sweet chocolate chips (optional)
2 tablespoons melted butter (for greasing the griddle or skillet)
Chocolate Ganache Sauce:
½ cup heavy cream
½ cup plus 2 tablespoons semisweet chocolate chips
Decorations:
¼ cup orange melting candy wafers
Yellow or white pearl dust (optional)
Small food-safe brush
Diamond-shaped silicone mold
Rainbow chip sprinkles (optional)
Star sprinkles (optional)
Directions
In a medium-size mixing bowl, whisk together the eggs, milk, and vanilla extract.
In a separate mixing bowl, whisk together the pancake mix, cake or brownie mix, cocoa powder, and chocolate chips.
Stir the dry ingredients into the wet, mixing just until combined. It is okay for the batter to be lumpy, but you don't want to over-mix as the pancakes will not be as light and fluffy.
Allow the pancake batter to rest for at least 5 minutes while preparing either a skillet or griddle on medium-high heat.
Once your batter and pan are ready, brush the surface of the skillet or griddle with melted butter and add 1/3 cup batter to the middle of the pan. Cook for 2 minutes, then flip and cook the other side for 2 minutes as well. Transfer the finished pancakes to a plate while cooking the rest of the pancakes. I recommend adding more butter in between each pancake so they don't stick.
To make the magical Phoenix gem, brush the inside of each facet of the diamond mold with a little pearl dust. Melt the orange candy wafers in 30-second intervals at 50% power, stirring between each interval until smooth and completely melted.
Carefully spoon the orange candy melts into each diamond cavity until full. Tap the bottom of the silicone mold on the counter to release any air bubbles. Transfer to the refrigerator to set.
Next, prepare the ganache. Transfer chocolate chips to a heatproof bowl. Add the heavy cream to a small saucepan and heat on medium until it comes to a simmer. Do not boil.
Carefully pour the cream over the chocolate chips, and allow the chocolate to melt (untouched) for 3 minutes.
Use a spoon or spatula to stir the chocolate and cream together until the combination is glossy and smooth.
Plate your pancakes! Distribute the pancakes between your serving plates. Remove the Phoenix Gems from the refrigerator, and hide one in each pancake stack. Pour the ganache over the top of the pancakes. (It's easiest to do this when the ganache is still warm, as it will thicken as it sets.) Sprinkle the top of each pancake stack with rainbow chips and star sprinkles.
Dig in! Leftover pancakes and chocolate ganache can be covered and refrigerated.