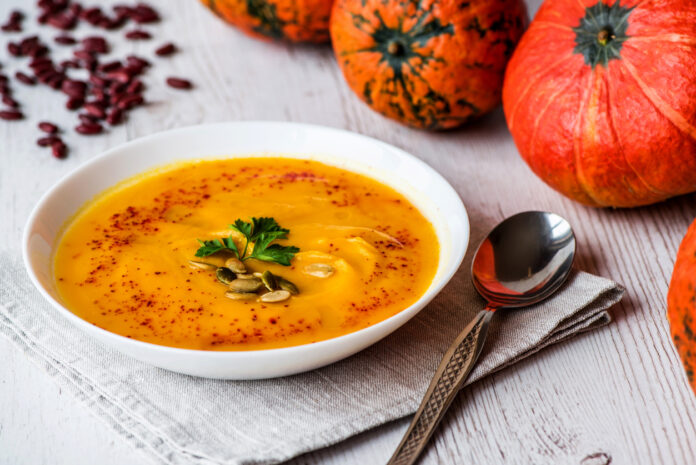 Many cruise lines sell recipe books, but often if you have a favorite dish while cruising, ask your waiter, and many times, they will provide you with the recipe. The photo is our version. We added pumpkin seeds and a dollop of sour cream. You can also use garnish with bacon crumbles, thyme, pomegranate seeds, croutons or heavy cream.
Here is Carnival's delicious pumpkin soup recipe.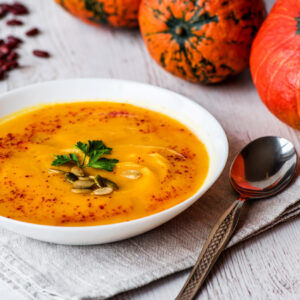 Carnival Cruise Line Pumpkin Soup
Carnival's Amazing Pumpkin Soup
Ingredients
2-1/2

quarts

chicken stock

1/2

lb

onion

5 2/3

ounces

Leek

in chunks

1 1/8

ounces

Garlic clove

3 3/8

tbsp

Olive Oil

1 2/3

cups

half and half

1/4

cup

heavy cream

5/8

ounces

chicken base

1 1/4

lbs

pumpkin puree

roasted

dash

nutmeg
Instructions
Roast onions, leeks and garlic cloves in olive oil in a preheated oven at 300 degrees Fahrenheit for 30 to 45 minutes.

Remove and puree in blender.

While the onions, leeks and garlic are roasting, take advantage and roast the pumpkin as well. The pumpkin should be whole until ready to use.

Cut pumpkin in half and scoop out the seeds and strings.  Place pumpkin face down in a large baking pan with a 1/4 inch of water. Bake uncovered at 350 degrees for 45 minutes to an hour.

Since the oven temperature is on 300 to roast the other vegetables, go ahead and cook the pumpkin at 300 degrees and once you remove the other items, increase the temperature to 350 and cook for an extra 15 to 30 minutes*

Let cool. Puree pumpkin in blender or food processor.

Bring stock, pumpkin puree, pureed vegetables and chicken base to boil. Simmer for 45 minutes.

Add Half & Half and simmer.

Season with salt & pepper.
Notes
This recipe serves 15 people. Adjust ingredients for smaller portions.
*Please note that the original recipe calls for roasted pumpkin, however it does not describe how to roast it, so just in case someone had not roasted a pumpkin before, I added the information on Step 2. Everything else follows the original recipe.
More cruise line recipes