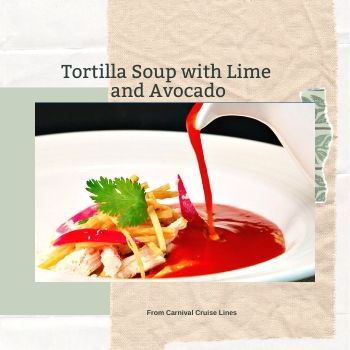 A delicious Mexican soup from Carnival Cruise Lines just in time for Cinco de Mayo. You can add this new delicious recipe to your menu.
Tortilla Soup with Lime and Avocado
Ingredients
5

lbs

Tomatos

1

whole

Chicken

3

qt

Chicken Stock

3

oz

White Onion

1

pinch

Chipotle Powder

(or to taste)

1

tbsp

Paprika

5

Cloves

Garlic

(smashed)

1

Serrano Chili Pepper

2

Tortillas

½

tbsp

Cumin

2

Avocados

1

tbsp

Canola oil

Tortilla Crisps

(for crunch)

Salt

(to taste)

Black Pepper

freshly crushed, to taste

Lime Juice

(to taste)

Sour Cream

(to taste)

Cheese of your Choice

(maybe cotija) to taste

Cilantro

(for Garnish)

Lime Wedge

(for Garnish)
Instructions
First boil the chicken in chicken stock until it's cooked all the way through. Then shred half the chicken (save the other half for leftovers) and set the stock aside.  

(Spoiler: later on, the stock will become the base of our soup!)

Char the tortillas a little bit using your favorite method — on a grill, in a pan or directly on a gas stove. Then cut them into small strips.

Heat the oil and lightly sauté the paprika in it. This you don't want to char!

On a grill, roast the tomatoes, onion, garlic and serranos. (Or you can use an oven.) These you actually do want to char! Combine the mixture with the tortilla strips and the sautéed paprika.

Add this mixture, plus the cumin and chipotle powder to the chicken stock. Bring the whole thing to a boil and season it with salt and pepper.

Reduce this to whatever soupy consistency you feel like. We just wouldn't let it get too thick.

Serve the soup with your pulled chicken breast, some diced avocado and fried tortilla crisps on top.

Fancy bonus! Sprinkle some cheese on top, and serve with a scoop of sour cream, topped with cilantro and a lime wedge on the side
Ready to take a cruise and taste all the delicious food first hand? Browse Carnival cruise line itineraries, dates & prices.  If you are not quite ready to make a reservation, but have an idea of when your next vacation will be, we suggest using a free cruise price tracker so that you can monitor the sailings you are interested in without having to make any commitments.
We have many more Cruise line recipes for you to look at…