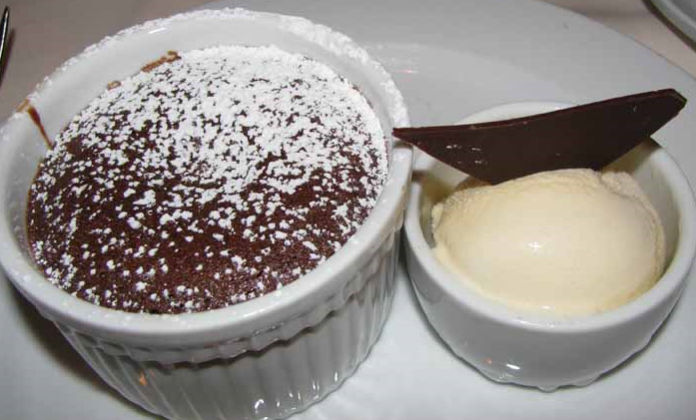 Chocolate lovers sailing on Carnival cruise line, always fall in love with the warm chocolate cake they serve. We are happy to say that we have made this at home, and it came out exactly like is tasted on the cruise ship!  I am going to be trying different flours to make a gluten free version that will hopefully taste equally good.
Ingredients:
4 oz semi-sweet chocolate
4 oz sweet chocolate
1 cup (2 sticks) butter
7 eggs, divided use
6 tablespoons sugar
1/2 cup flour
Directions:
Preheat oven to 375 degrees. Melt chocolate and butter in a saucepan at low heat; cool 10 minutes. In separate bowl, mix four eggs with sugar. Whisk. Add flour and whisk. Add remaining three eggs. Add egg mixture to chocolate mixture. Pour in individual ramekins. Bake until just done, about 15-20 minutes (interior will be melting).
Serve with vanilla ice cream. Makes 8 servings
We made it with the recipe above and it was amazing.  A more resent version is now out from Carnival which we are sharing with you below.
More cruise line recipes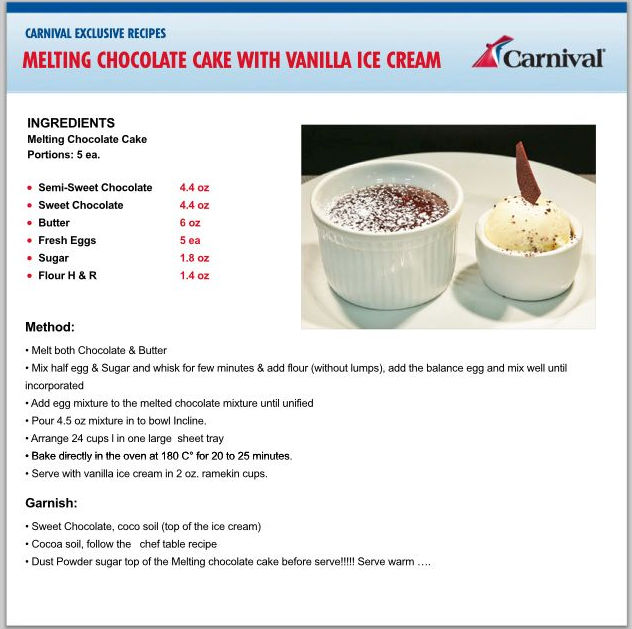 Many people complained to Carnival about having to figure out the recipe with ounces, so here is an easier recipe to follow. Although overall slightly different, still very delicious!