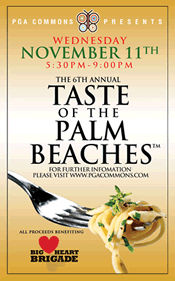 The 6th Annual TASTE OF THE PALM BEACHES™ has will be held on November 11, 2009 from 5:30 to 9 p.m., at the PGA Commons Shopping Center located @ 4580 PGA Blvd. The Palm Beaches most popular and prestigious food event is scheduled to take place this winter.
The Taste of the Palm Beaches™ is a gathering of the area's most popular and respected dining establishments. Chefs are allowed free reign to offer their kitchen's best and brightest creations; a fabulous way for diners to discover new destinations, flavors and combinations.  To enhance the Taste experience there is live music and displays from the Palm Beach Gardens Police and Fire Departments.  Taste of the Palm Beaches™ is a celebration of the good life: good food, good friends, good music and a good cause.  Last year the Taste attracted over 1,600 people and raised funds for the Big Heart Brigade's Thanksgiving Dinner Drive.
Local chefs feature their best and brightest creations. There is also live music, vendors and more.
Proceeds from this event benefit the Big Heart Brigade Charity, which aims to feed 40,000 South Florida families Thanksgiving meals each year.
Tickets will be  available for advance purchase online ($35) or the day of the event ($40.) Children ages 6-12 are $20 and children under the age of 6 are free.