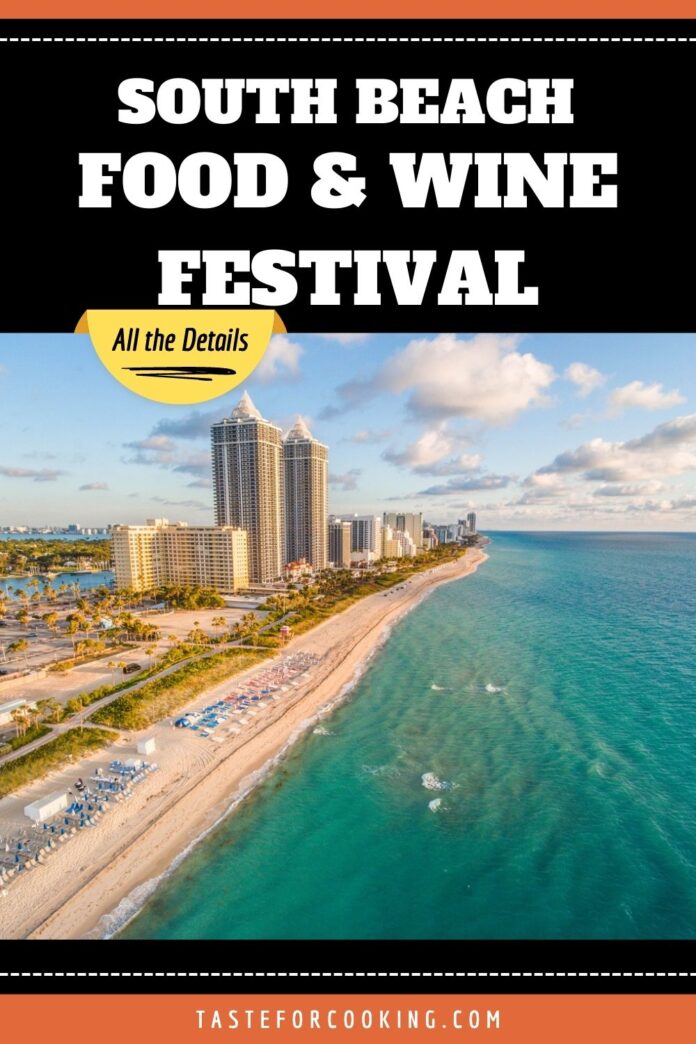 The Food Network South Beach Wine & Food Festival (SOBEWFF®) is an annual event that takes place in Miami Beach, Florida. It is one of the country's most highly-anticipated food and wine festivals, attracting thousands of visitors each year. The festival features a wide variety of events, including tastings, cooking demonstrations, and seminars led by renowned chefs and culinary experts. This four-day food and wine festival runs from February 23-26, 2023, and is attended by 60,000 people annually. There are over 100 events dedicated to chefs and culinary personalities, wine and spirits so there is something for everyone.
Grand Tasting Village
The Grand Tasting Village is a highlight of the festival, where attendees can sample a diverse array of dishes from top restaurants and food vendors. The village is set up on the beach, with rows of tents featuring different types of cuisine, including Italian, Asian, and Latin American. Food trucks, pop-up restaurants, and beverage stations also offer craft cocktails, beer, and wine. In addition to the food, the Grand Tasting Village also features live music and entertainment, making it a lively and vibrant atmosphere. Attendees can stroll through the village, sampling the various dishes and drinks and enjoying the sights and sounds of the festival.
Burger Bash
One of the most popular events at the South Beach Wine & Food Festival is the Burger Bash hosted by celebrity chef Emeril Lagasse this year. This event features a competition between top chefs to see who can create the best burger, as judged by a panel of food critics and celebrity guests. The panel of judges include Robert Irvine, Phil Rosenthal, and Jawan Strader. The burgers are grilled on the beach, and attendees can sample them and cast their vote for the People's Choice award. There will also be a special performance by Midland.
Gala tribute dinner & Moet Hennessy Dinner
In addition to the Burger Bash, there are several other special events at the festival, such as the Moet Hennessy Dinner, which features a multi-course meal prepared by celebrated chefs. There are also wine tastings, cocktail parties, and celebrity chef dinners. Attendees can enjoy a unique dining experience and interact with some of the biggest names in the culinary world. Let's not forget the gala tribute dinner Saturday, February 25th. This year chef Alex Guarnaschelli and Pernod Ricard's Alexandre Ricard hosted by Bobby Flay, serving as master of ceremonies.
New events for the 2023 South Beach Wine & Food Festival
New events for the 2023 South Beach Wine & Food Festival include a Sunday Drag Brunch hosted by David Burtka and Neil Patrick Harris followed by an afternoon tea dance and drag show with a performance by the disco queen Thelma Houston as well as Bianca del Rio from Ru Paul's Drag Race. Marcus Samuelson is hosting Overtown EatUp on Sunday, February 26th, a first-of-its-kind event highlighting Overtown's equally diverse community. Overtown chefs showcase their considerable talents, which pay homage to the neighborhood's unique culinary traditions and cultural pride.
In addition to the food and drink, the South Beach Wine & Food Festival also offers many educational opportunities for those interested in the culinary arts. There are cooking classes, wine tastings, and seminars on a variety of topics, such as the science of mixology and the art of food photography. These events are led by industry experts and offer attendees the chance to learn new skills and techniques and to deepen their knowledge of the culinary arts.
Chaplin School of Hospitality & Tourism Management at Florida International University
One of the unique aspects of the South Beach Wine & Food Festival is the focus on philanthropy. A portion of the proceeds from the festival are donated to the Chaplin School of Hospitality & Tourism Management at Florida International University to support the school's programs and scholarships. The festival also hosts a number of charity events, such as the Goya Foods' Grand Tasting Village, which raises money for the Food Network & Cooking Channel South Beach Wine & Food Festival's Southern Glazer's Wine & Spirits Florida Impact Programs.
The South Beach Wine & Food Festival is a must-attend event for foodies and wine enthusiasts, offering a unique opportunity to sample some of the best cuisine and beverages from around the world. It is also a chance to learn from industry experts and to support a good cause by contributing to the festival's philanthropic efforts.
Popular Miami Beach Activities