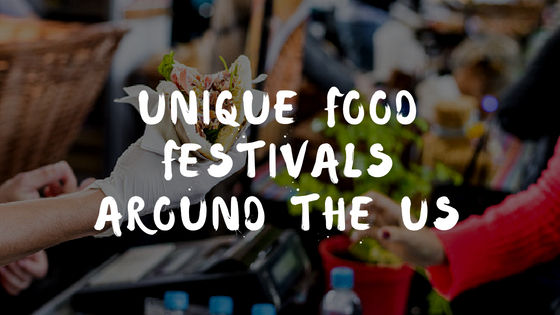 Unique Food Festivals in the US
Are you ready to eat? If so, then you are in luck as there are plenty of food festivals right here in the good old U.S.A. That's right, you don't have to leave the country to enjoy all sorts of delicious dishes. Mango, corn, potatoes, lentils… here are some of the more unique food festivals around the U.S.
Where: Bakersfield, California
When: April
Who doesn't love mac and cheese, right? This festival offers this beloved comfort food in every way possible. You can find it with barbeque sauce, wrapped with bacon or even with lobster. Mmm…In addition to all of this deliciousness, there's wine and beer tastings available and plenty of live music to enjoy while you are eating and drinking.
Where: Pullman, Washington
When: August
Started in 1989, all things lentil are featured at this festival. You can enjoy a lentil pancake breakfast, lentil cook-off and a food court that offers a lot of different foods to purchase that mostly feature, you guessed it, lentils! At this festival you can also see the largest bowl of lentil chili in the world. The National Lentil Festival is very family friendly as there is a children's entertainment stage that features bird shows, juggling and comedy shows. After you've indulged in all the lentils you can handle, you can take part in a golf or softball tournament, race or bike ride.
Where: Branford, Connecticut
When: August
This 3 day festival has grown quite a bit since it started back in 2002. Each year over 25,000 people come out to take part in all of the potato and corn festivities. In addition to all of the opportunities available to eat potatoes and corn, there's also a beer and wine garden to indulge in. Participants can even enjoy a car show and numerous carnival rides. Just make sure you don't eat too much before hopping on one.
International Mango Festival
Where: Miami, Florida
When: July
Taking place at the Fairchild Tropical Botanical Garden every year, there's all sorts of mango fun to be had here. There are fruit trees for sale and even classes on how to grow and take care of them. Visitors can also take part in cooking demonstrations, with many of them featuring fresh mango. One of the most popular things to do is to indulge in the mango tastings and to try all of the unique mango related items for sale.
Where: Jekyll Island, Georgia
When: September
This festival is one of the most popular things to do on Jekyll Island. Visitors come from near and far to experience the shrimp and grits, live music and other entertainment. There are a variety of artists on hand selling their goods and there is a kid's zone to keep the little ones entertained.
Where: Portland, Oregon
When: July
Even though this festival is only a couple of years old, it is gaining popularity. One of the highlights of it is the World's Best Lobster Roll Competition that is always fun to participate in. There are numerous other things to do like croquet, bocce ball and cornhole. The kid's area features things like a butter churning station, aquarium touch tank and face painting.
Where:Waikiki, Hawaii
When: April
This is a festival with a purpose. Each year locals and tourists come together for this street festival to enjoy Spam related dishes from some of Hawaii's best restaurants, as well as 2 stages of entertainment. The event benefits the Hawaii Foodbank, which is the island's biggest non-profit organization that helps to feed the needy.
Where: Ellsworth, Wisconsin
When: July
Cheese lovers, there's even a festival for you! The cheese curd festival features over 5,000 pounds of cheese curds. This means that there are plenty of samplings and tastings available. Food offerings include deep-fried cheese curds and even a dessert curd that's supposedly pretty tasty. There's also a car show and vendors that feature a variety of unique items for sale. For those that are feeling competitive with their cheese eating, There is the Cheese Curd Eating Contest that's fun to participate in or just watch.
Other blogs that may interest you include New Years Lucky Foods 2020, Music Festivals Around the World and Chinese New Years Lucky Foods.