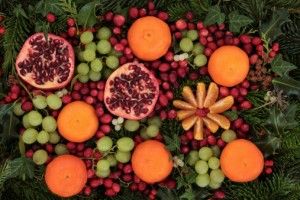 New Years Eve is tomorrow, and it's always interesting to hear people's traditions, and even superstitions on how to bring luck for a new year.   Here are some of the most popular foods to consume on New Year day.
Many cultures eat twelve grapes on New Year's Eve: each represents the chime of a clock/or one for each month of the year…some people even make a wish for each grape.
All types of beans are said to bring good luck because they are round in shape resembling coins.  In the South, eating black eyed peas on New Years is said to bring good fortune. In many European countries, green lentils are popular as they are green, representing the color of money.
Cooked greens are also said to bring money…swiss chard, spinach, cabbage, kale or collards.  Some beleive the more greens you eat on the 1st, the more money you will have in the coming year.
When it comes to protein, eat pork over chicken or beef on New Year day because pigs root forward when they eat while chickens scratch backward and cows stand still (we all want to move forward not backwards in the New Year!) If your the cook in the house, considering putting pork, ham or bacon in your black eyed peas or lentils for added flavor. Fish is also a good choice, but not lobster, as again they move backwards.
Eat noodles for longevity.
Eat cornbread – said to symbolizes gold.
Round fruit & pomegranate. Round fruit brings good fortune since they are round like coins, as well as their sweetness thought to bring good things in the New Year.  In the In Turkey they eat pomegranates as the red color represents and human heart, the seeds denote life and fertility and because the seeds are found they are said to also represent prosperity. and all things hope for a fresh start.
Did we miss any New Years lucky foods?