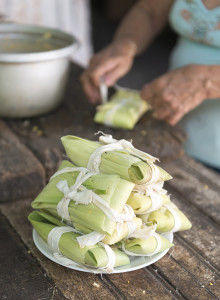 Corn—a key ingredient of tamales—is the color of gold, symbolizing wealth. Tamales also represent love, for the time and labor it takes to make them. Tamales come plain, or they can also be stuffed with ground beef, chicken or seafood.  Many Cuban's mix pork right into the corn meal rather than stuffing the tamale. It can be served in corn husks, or made in a pan which is also known as tamales en casuela.
INGREDIENTS:
1 1/2 pounds de-boned country style pork ribs cut into small chunks (2 to 3 inches thick)
10 cloves garlic, minced
1 tablespoon vinegar
water to cover meat
3 cups ground fresh yellow sweet corn (may substitute frozen)
3/4 cup lard, butter, or shortening
2 1/2 cups masa harina (finely ground corn flower)
2 1/2 cups chicken broth
1/4 teaspoon bijol (annato seed powder)
1/4 cup olive oil for frying
2 cups onion, chopped fine
2 cups green pepper, chopped fine
5 cloves garlic, minced
3 ounces tomato paste (1/2 can)
1/2 cup water
1/2 cup wine (red or white)
1 large lemon (juice only)
1 teaspoon salt
1/2 teaspoon black pepper (fresh ground)
24 dried corn husks (Soak dried corn husks in hot water before using)
Take pork and put into a sauce pan, adding just enough water to cover the meat.  Add a pinch of salt, a teaspoon of garlic and a tablespoon of vinegar.  Bring to a boil, then reduce heat and cook on low uncovered until the water has boiled off.  This will flavor the meat and render some of the fat.
Take the pork pieces and fry them in olive oil until lightly browned.  The meat should now be tender and easy to pull apart with a fork. If any remains, trim off the excess fat.  Set aside.
Slice the kernels off of the cob until you have 3 cups or of course you can also use frozen corn.  Quickly grind in the food processor with butter or shortening.  The mixture should be course, but be careful not to over blend to smooth.
Remove the corn and place in a large stock pot. Heat chicken broth in a separate pan.  Add warm broth and 2 cups ground corn flower (masa harina) into the corn.  Add Bijol which will give it a nice yellow color.
In another pan (yes there are a lot of dishes to wash with this one,) saute onions and green pepper in a few tablespoons of olive oil for 5 minutes on medium heat.  Add the remaining minced garlic and cook for an additional 2 to 3 minutes.  Mix tomato paste in and add 1/2 cup of dry white wine.  Simmer on low for 10 minutes.
Now you are ready to put it altogether.  Take the pork and onion/pepper mixture and mix with the corn in the stockpot.  Add lemon juice, salt, pepper and stir.  Cook on low until it thickens which should be around 20 minutes, stirring frequently so that is doesn't stick to the bottom of the pan.
Let cool for 10 minutes.  Take 2 corn husks and overlap them on a flat surface.  Put some of the mixture into the center of the husks. Fold from top and bottom first, then fold the sides in as well.  Tie with a string.
Bring 3 to 4 inches of water to a boil.  Add tamales.  Reduce heat to low and simmer/steam for 1 1/2 to 2 hours.