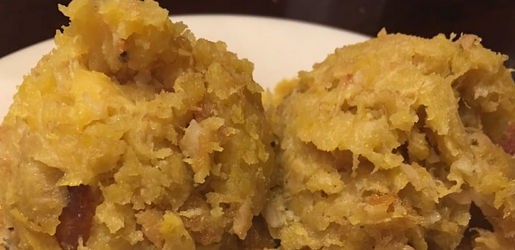 Delicious dish made from green plantains, known in Cuba as fufu de platano. Dominican's make a very similar dish called Mangu, and in Puerto Rico they make Mofongo.  Mofongo is made by mashing fried plantains versus boiling them.  It is often shaped into a ball. 
Fufu de plátano is a traditional West African dish made from mashed plantains. It is a staple food in countries like Ghana, Nigeria, and Cameroon, and is often served with a soup or stew, such as egusi or groundnut soup. In Spanish-speaking countries, plantains are a common ingredient in many dishes and are known as plátano macho. They can be prepared in a variety of ways, including frying, boiling, grilling, and mashing. To make fufu de plátano, plantains are peeled, boiled, and mashed until they reach a smooth, dough-like consistency. The resulting dough is then shaped into small balls and served alongside the soup or stew. Fufu de plátano is a nutritious and filling meal that is enjoyed by many people in West Africa and Spanish-speaking countries around the world.
Here is an easy recipe for fufu de platano.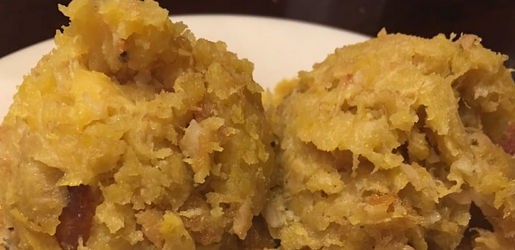 Fufu de Platano Cubano – Green Plantain Mash
Ingredients
3

Green Plantains

Large

1

White Onion

Medium

4

tbl

Extra Virgin Olive Oil

1

tsp

Black Pepper

1/2

tsp

salt

4

cups

Chicken Stock

Lemon

little bit of juice
Instructions
Cut ends of off the plantains and peel.  Cut them into chunks.  You may find it easier to cut them first and then peel.

Bring the plantains to a boil, then lower heat, cover and simmer until tender.  This will typically take 20 to 30 minutes.  Test with fork for tenderness.  Keep the bananas in broth until you are ready to mash them.

In a separate pan cook onions in olive oil for 3 to 5 minutes on low heat.  Add garlic and sauté for a few more minutes.  Mash the bananas with the broth (add 1/2 of a cup of broth or water at a time until desired consistency – should be like mashed potatoes.)  Add in oil, onions and garlic.  Add in lemon juice and season with salt and pepper to taste.  I personally also like to add some chopped fresh parsley or cilantro.

Serve as a side dish or you can top with bacon bits, pork cracklings (Chicharrón) or masas de puerco (fried pork chunks) and have as a meal.
Notes
You can also make this with sweet plantains, or even medium ripe plantains for a sweeter taste.  With the sweeter plantains we suggest 4 plantains, 4 strips of bacon (cooked until crispy and chopped) 1 medium onion and 4 to 6 cloves of garlic.  Cook your bacon and then in the pan drippings cook the onion for 3 to 4 minutes over medium heat.  Add garlic and cook for 2 to 3 minutes. Discard all of the bacon drippings except for 2 tablespoons.  Add to the bananas and mash with onion and garlic mixture.
Dominican Mangu
:  Use the same unripe plantains and boil until tender.  They add in 4 tablespoons of butter instead of the olive oil, as well as 2 red onions, 1 tablespoon vinegar and 1 cup of cold water to mash together with the softened plantains.  I saw another version that used milk instead of water.  Will have to try the Dominican version to compare the taste to the Cuban fufu.  This is traditionally eaten for breakfast along with fried eggs.