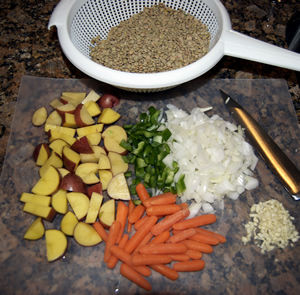 Its starting to get cold here, so we love making comfort food. I made a pot of Turkey Chili using my Turkey Chili Recipe and a pot of Lentil soup. I had tried many different lentil soup recipes and it is hard to come close to the lentils that my abuela use to make. She certainly would have not made a vegetarian version of lentils like I like to make, but I have tried to make the beans as close to hers without using a large ham bone.
Prep Time: 20 minutes       Cook Time: 2 hours
Ingredients:
* 1 lb dry lentils (you can soak 1 hour before cooking or rinse them off and let the cook longer)
* 1 onion
* 2 carrots
* 2 celery stalks
* 2 garlic cloves
* 2 Tbsp Spanish virgin olive oil
* 1 packet of Sazon Goya Con Azafran (found in the spice section of most stores, comes in a box)
* 1 Tbsp ground cumin
* salt and pepper to taste
Variations: you can also add potatoes to this while it is cooking. If you don't want to make this vegetarian version you can always add cubes of ham or a ham bone (this will increase the saltiness)
Preparation:
Note: Preparation time does not include 1 hour for soaking the lentils before cooking (which is optional)
Rinse lentils in a strainer. Place lentils into a medium sauce pan and cover with water. Soak for 1 hour if you can.
Peel the carrots and cut into slices about 1/2-inch thick. Cut the celery stalks into slices. Peel and mince garlic cloves. Chop the onion. Peel the potatoes and cut into 1-inch cubes (if you are using them).
Pour the oil into a large pot and heat on medium. When oil is hot, add the vegetables and sauté for 5 minutes.
Add lentils, Goya Sazon, and Cumin to pot and add enough water to the pot to cover everything. Bring the water to a boil. Then reduce to a simmer or low for about 2 hours. Check the pot every 20 minutes or so. Add water if/when needed.
Once it is done add salt and pepper to taste. And we sometimes serve it with white rice and banana chips or crunchy french bread.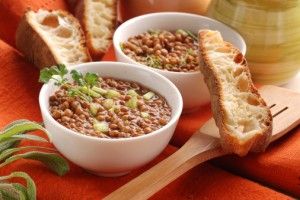 Lentils are one of the most popular New Years Lucky foods, so consider making some for New Years day.

Looking for more recipes? These are the most popular recipes on Taste For Cooking