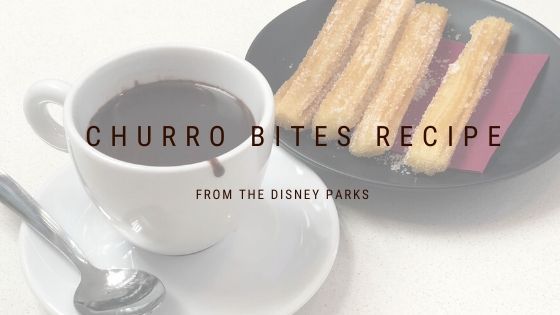 A churros recipe right from Disney Parks to your home! These homemade churro bites are pretty simple to make and they're delicious! Fun fact… did you know Disney estimates that their guests consume over 5.5 million of them every year 😲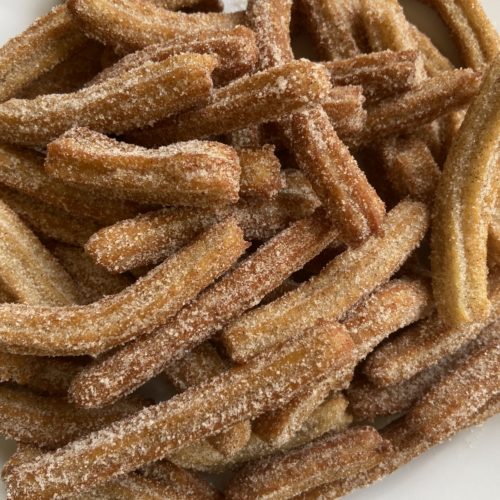 Disney Churro Recipe – Churro Bites
Disney Churro Bites you can make in your own kitchen
Ingredients
1

Cup

Water

3

Eggs

4

oz

Butter

1/4

tsp

Salt

1 1/4

Cup

Flour

Cinnamon/Sugar Mix

topping

1 1/2

Cup

Oil
Instructions
Combine 1 cup water, 4oz butter, ¼ tsp salt, ¼ tsp cinnamon in a pot over medium heat

2. Bring pot to a rolling boil

3. Add 1 ¼ cups flour

4. Reduce heat to low

5. Stir vigorously until the mix forms a ball

6. Remove from heat and let rest for 5-7 min

7. Add 3 eggs, one at a time, and stir until combined

8. In a skillet, heat 1 ½ cups of oil to 350o and stir

9. Spoon rested dough into a piping bag

10. Squeeze 1-inch strips into hot oil

11. Fry churro tots until golden

12. Drain churro tots on a paper towel

13. Coat in cinnamon/sugar mix

14. Serve with melted chocolate sauce

15. Bon appetit!
Thanks to for the recipe from disneyparks.disney.go.com!
If you are looking for many other Disney Parks recipes don't go far – we have a great collection of them we did for mother's day/