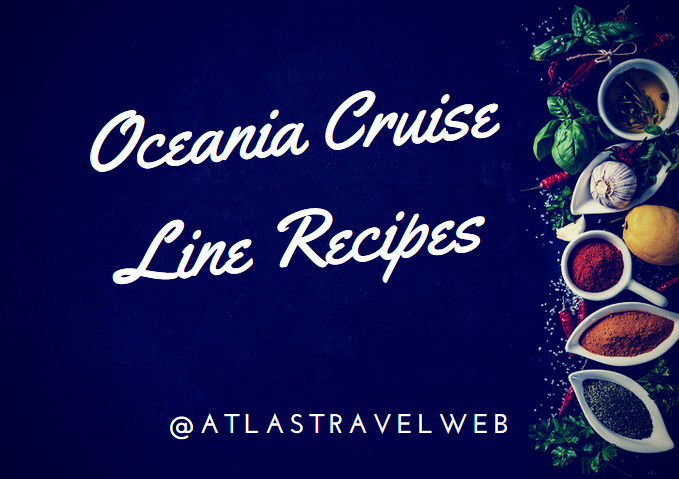 Master Chef Jaques Pepin's restaurant onboard Oceania Cruises, is by far one of the best restaurants at sea. This aware winning chef can even magically turn rotisserie chicken into a melt in your mouth experience.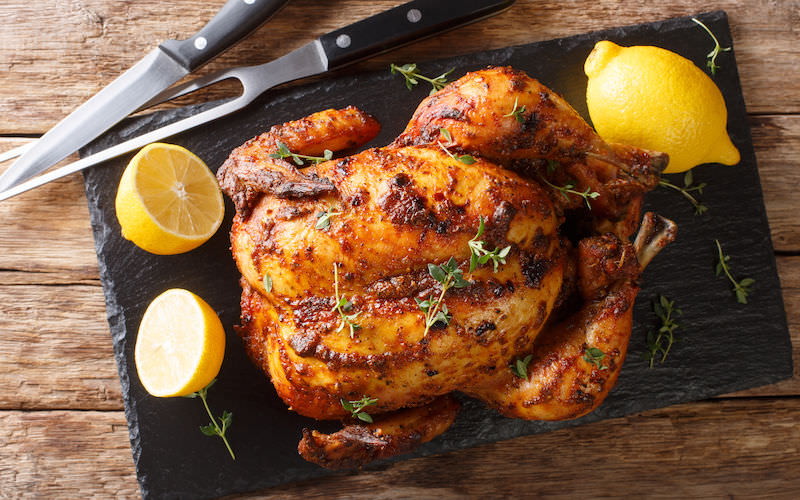 Here's the recipe so you can try it at home.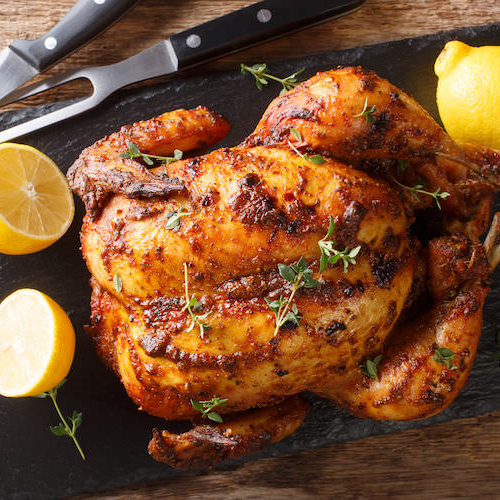 Jaques' Rotisserie Chicken Recipe
Equipment
Spice Grinder

Small Bowl

Kitchen Twine

Kitchen Thermometer
Ingredients
1

Whole

Chicken

4½ to 5 pounds, trimmed of excess fat

Canola oil

Fleur de sel
Seasoning Blend
2

Bay Leaves

2

tbsp

Dried Thyme

1

tbsp

Dried Rosemary

1

tsp

Dried Rosemary

1

tbsp

Dried Sage

1

tsp

Dried Sage

1 ½

tsp

Dried Basil

1

tsp

Dried Oregano

¼

cup

Kosher Salt

2

tbsp

Sweet Paprika

1

tsp

Ground Ginger

¾

tsp

Ground Coriander

¾

tsp

Ground Mace

½

tsp

Ground White Pepper

½

tsp

Ground Cloves

¼

tsp

Ground Cardamom
Instructions
For the Seasoning Blend
In a spice grinder, combine the bay leaves, thyme, rosemary, sage, basil, and oregano and grind to a coarse powder.

Transfer the ground mixture to a small bowl and stir in the salt, paprika, ginger, coriander, mace, white pepper, cloves, and cardamom.
For the Chicken
Rotisserie and grill set-up will vary depending on the manufacturer, so follow the instructions provided with your equipment.

For a grill that has a separate burner or infrared heating element for the rotisserie, preheat that area to medium-high and preheat the grill under the rotisserie to medium.

Place the chicken on a work surface and place a long piece of kitchen twine under the wings. Bring the twine up around the chicken and tie, securing the wings against the bird.

Tie the drumsticks together with a separate piece of twine. Trussing the chicken will help it cook more evenly.
To Season and Cook the Chicken
Rub the chicken with an even coating of the seasoning blend. You won't need all of it. Store the remainder in an airtight container at room temperature for future use. Lightly dab the surface of the seasoned chicken with canola oil to help the spice blend adhere.

Secure the chicken to the rotisserie rod using the prongs provided. Cook, adjusting the heat as needed to keep the chicken skin from becoming too dark as the meat cooks.

The chicken is done when a kitchen thermometer inserted into the meatiest part of the thigh without touching the bone registers 165°F, about 1½ hours.
To Serve
Remove the chicken from the rotisserie and let rest for 10 minutes. Cut into serving pieces and arrange on a platter. Sprinkle with fleur de sel.
Other popular Oceania Cruise Line Recipes:
Oceania Cruise Line Recipes
Oceania Eggplant Alla Parmigiana Recipe
Oceania Chimichurri Recipe
Oceania French Onion Soup Recipe