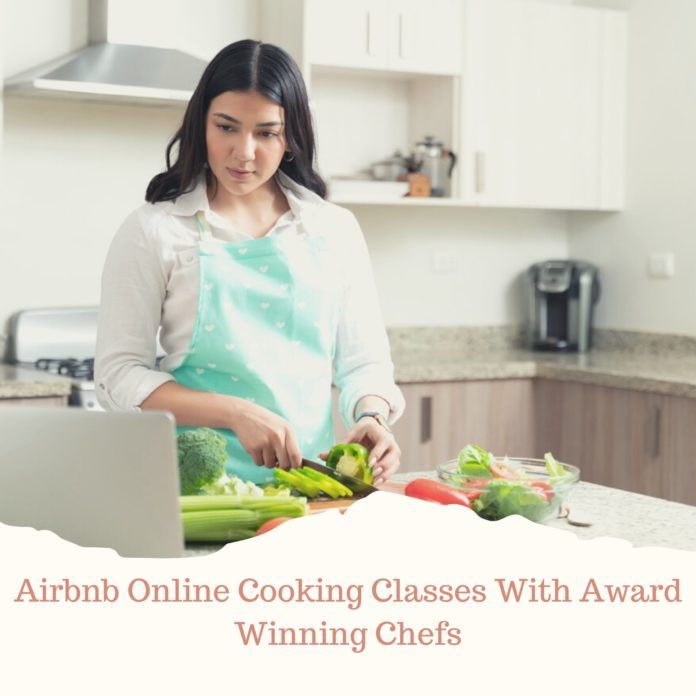 Grab your apron, mixing bowl and tablet. Airbnb online experiences is partnering with Take A Chef to help you with your culinary skills. Talents, award winning chefs including David Chang, Spain's Roberto Ruiz and Italy's Giuseppe Iannotti will teach you new techniques, travel virtually, and support a good cause all at once. "This new collection of Cooking Experiences provides a peek behind the counter at the unique recipes and techniques of top rated chefs—and guidance to whip-up a gastronomic storm in your very own kitchen."
During the month of July, some of the Online Cooking Experiences will donate all proceeds to benefit food-related non-profits such as The Lee Initiative Restaurant Reboot Relief Program and ABC Food Tours. While there are dozens of online cooking classes to enroll in, we have five to recommend that offer healthy and delicious recipes on the menu.

All proceeds from Chef Chang's One Pot Deliciousness, Claudette Zepeda's Cauliflower Torta Tacos and Chef Edward Lee's Summer Grilling Experience, hosted at Maker's Mark, will benefit Lee's The LEE Initiative Restaurant Reboot Relief Program, which launches this month to help restaurants reopen after COVID-19 and to support small farmers in fixing the food supply chain. All proceeds from Traore's Favorite Summer Recipes will benefit Harboring Hearts.

A few other classes you may want to check out:
Roze Traore's Favorite Summer Recipes offer seasonal creations including cucumber-squash panzanella and a summer shaved fruit salad.
Rishi Naleendra's Flavors from Down Under are when a modern Australian cuisine meets exotic Asian flavors and European techniques in a masterclass with multicultural cooking using fresh local produce.
Indra Carillo Perea's Seasonal French Produce uses vegetable-focused hearty dishes with wine pairing suggestions.
Diego Guerrero's World of High Kitchen Fermentations suggest master methods that will make homemade kombucha, kimchi and more gut-friendly goodies a breeze to DIY.
Prepare to take a taste bud tour of the globe – no passport required.