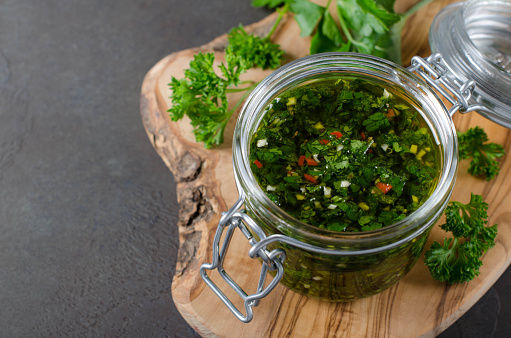 This weekend we tried this Chimichurri recipe provided by Oceania Cruises Line taught in the Bon Apetit Culinary Center onboard the Oceania Riviera and Oceania Riviera cruise ships.  We used in on grilled lamb chops paired with a nice Malbec….delicious!
Chimichurri Recipe:
1 bunch flat-leaf parsley, washed
1 bunch cilantro, washed
6 to 10 cloves garlic, peeled
1 tablespoon dried oregano
1 teaspoon crushed red pepper flakes
1 teaspoon dried thyme
1/2 cup champagne vinegar or white distilled vinegar
3/4 cup grapeseed oil or mild extra virgin olive oil
1 teaspoon kosher salt
1 teaspoon freshly ground black pepper
Pinch of smoked paprika (pimenton), optional
Place all ingredients in a food processor and blend, adjusting the amount of garlic to taste. If the sauce is the consistency of a thick paste, thin with more oil. Sauce can be stored in the refrigerator in a tightly sealed container for up to 2 weeks.