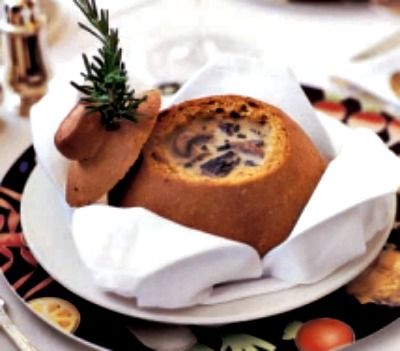 This recipe is very popular with Crystal Cruise Line guests.  It has been served for over 20 years.  This was shared by executive chef Gunter Lorenz.  As a beautiful added touch, it is served in oregano bread bowls.
Ingredients:
1 ounce dried morels, or 2 ounces
fresh morels
3 tablespoons extra-virgin olive oil
1/2 cup portobello mushrooms, finely sliced
2 ounces white mushrooms
3 ounces fresh porcini mushrooms, finely sliced
3 shallots, minced
2 garlic cloves, minced
Salt & freshly ground white pepper
1/2 cup dry white wine
4 cups chicken stock
1/2 cup heavy cream
2 tablespoons minced fresh
flat-leaf Italian parsley
Leaves from 1 fresh thyme sprig, minced
Leaves from 1 fresh oregano sprig, minced
2 large fresh basil leaves, chopped
Four 6-inch round bread loaves
PREPARATION If using dried morels, wash the caps and soak them in warm water to cover for 10 minutes. Remove the stems and discard them. Cut small morels in half and large ones into 3 or 4 pieces.
In a medium saucepan over medium heat, heat the olive oil and sauté all the mushrooms for about 3 minutes. Add the shallots and garlic and sauté for 2 minutes. Season with salt and pepper to taste, add the wine and cook to reduce the liquid by half. Add the stock and bring to a boil. Add the cream and bring to a boil. Reduce heat, cover and simmer the soup for about 25 minutes. In a blender or food processor, purée half the soup until very smooth. Return the purée to the pan.
Stir in the parsley, thyme, oregano and basil and cook for about 2 minutes. Taste and adjust the seasoning. Keep warm.
TO SERVE Preheat the oven to 200ºF. Cut off the top of each bread loaf. With a large spoon, remove the soft inner part of the bread. Place the loaves on a baking pan and warm in the oven for about 5 minutes.
Remove the warm bread loaves from the oven and pour the hot soup into the bread cups. Garnish with the rosemary sprigs and serve.
Garnish with fresh rosemary springs.  Serves 4
Want to make more cruise line recipes? Follow us on Pinterest.