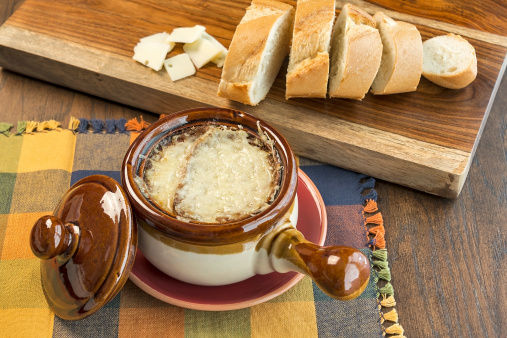 This recipe is from Oceania Cruises cook book called Taste the World.  We loved the use of both white and red wine for added flavor. Get ready to cry as there are lots of onions to cut!
French Onion Soup
(makes 5 cups, serves 4)
7 cups beef stock
3 tablespoons unsalted butter
9 cups thinly sliced onion
1½ tablespoons finely chopped garlic
3 thyme sprigs
3 marjoram sprigs
12 to 16 slices baguette, each ¼ inch thick
Extra virgin olive oil
1/3 cup dry white wine (such as Chardonnay)
½ cup dry red wine (such as Merlot)
3 tablespoons brandy
3½ cups chicken stock
Kosher or sea salt
Freshly ground black pepper
2 cups shredded Gruyère cheese
Pour the beef stock into a large saucepan and bring to a gentle boil over medium-high heat. Adjust the heat as needed to maintain a gentle boil and cook until the stock reduces by half, about 30 minutes. Set aside.
In a stockpot, melt the butter over medium heat. Add the onion and garlic and cook, stirring often, until the onion is translucent and a light golden brown, 15 to 20 minutes. Decrease the heat to medium-low and cook until the onion is a rich brown, 45 minutes to 1 hour, lowering the heat as necessary to prevent scorching. Stir occasionally.
Meanwhile, place the thyme and marjoram sprigs on a small piece of cheesecloth and tie into a sachet with kitchen twine. Set aside. Preheat the oven to 350°F.
Lightly brush the baguette slices on both sides with olive oil. Place in the oven and heat, turning once, until dry, about 5 minutes on each side. Do not allow the bread to color. Set aside.
Add the white wine, red wine, and brandy to the browned onion and bring to a simmer over medium-high heat. Simmer, stirring occasionally, until the alcohol evaporates and the onion is glazed, about 5 minutes. Add the sachet, the reduced beef stock, and the chicken stock and bring to a simmer. Keep at a low simmer, uncovered, for 1 hour. Season with salt and pepper.
Preheat the broiler. Place 4 flameproof serving bowls on a small sheet pan. Ladle the soup into the bowls. Top with the bread slices, and then top the bread slices with enough cheese to cover the bread completely and extend to the rims of the bowls, about ½ cup for each bowl. Place under the broiler until the cheese is bubbling and toasted.