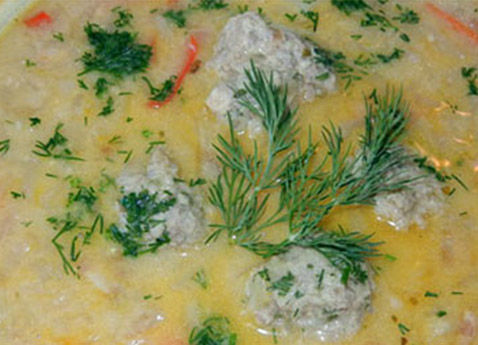 Ciorba de Varza (pronounced "CHOR ba duh VAR zuh") is a traditional cabbage soup with meatballs, very typical of the Bulgaria/Romania region. This recipe and photo is courtesy of Viking river cruises.
Ingredients
Soup:
6 oz sliced bacon
2 onions, chopped
2 carrots, sliced
2 red or yellow peppers, chopped
1 cabbage, cored and sliced
6 C chicken broth
Salt and pepper to taste
1 C fresh sauerkraut 2 lg egg yolks
1 C sour cream
1/2 C dill, chopped
Meatballs:
2 slices of dry white bread (soak in water for a few minutes to soften and squeeze the liquid out) OR 1 C of dry breadcrumbs
1 C cooked rice
1 lb ground beef
1 egg
1 T parsley, chopped
Salt & pepper to taste
Directions
Soup:
In a large pot, sauté bacon, onion, carrots and peppers just until onions are transparent. Add cabbage, chicken broth, salt and pepper and sauerkraut. Bring to a boil. Reduce heat and simmer 50 minutes or until vegetables are tender. Remove from heat. With a whisk, beat egg yolks with sour cream; add a few ladles of hot soup and continue beating until mixed well. Add this sour cream mixture into soup pot. Return to heat and simmer, stirring continuously, until soup has thickened slightly. Remove from heat.
Meatballs:
Combine all meatball ingredients in a bowl. Form 1- to 2-inch meatballs and add to soup as it simmers. Leave in for 15 minutes and then remove with a slotted spoon and set aside. Add the meatballs to soup and chopped dill before serving.
Makes 6 to 8 servings.