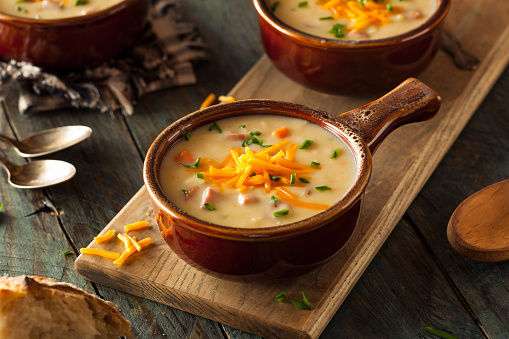 The first recipe is VERY close in taste to the cheddar cheese soup found at Le Cellier Steakhouse in Canada, Epcot, Orlando. 
At the bottom of the post, we include the actual recipe from Epcot so that you can compare the two. You see slight various in the amount of milk, flour and celery being used.  We have made both and they are delicious!

Ingredients:
1/2 pound bacon
5 tablespoons butter
5 cloves minced garlic
1 red onion finely chopped
1 cup diced celery
1 1/2 cups all-purpose flour
5 cups whole milk
1 quart chicken stock
2 pound shredded cheddar cheese (I like to blend white & yellow)
2 teaspoons Worcestershire sauce
3/4 cup Ale or your favorite beer at room temperature
Tabasco (1 tsp.), salt, and pepper to taste
Chopped parsley or chives
Directions:
Cook the bacon about half way.  Add onions, celery and cook for 3 to 4 minutes.

Add in butter and melt.

Sprinkle in flour and stir to form a roux.

Stir in milk and stock, stirring constantly as you pour in to ensure there are no lumps. If you have an immersion blender then use that.

Bring to a boil.

Cover and simmer for 15 minutes.

Remove from heat and whisk in cheese, Worcestershire, tobacco sauce and beer.

Season with salt and pepper to taste.

Top with bacon bits.

Serve with your favorite bread, croutons and chopped chives or parsley.