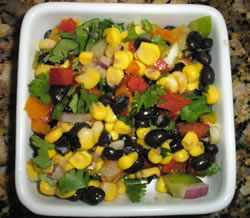 This is a great twist on traditional salsa. A local organic restaurant we go to serves this and it was so flavorful that we created on own version of it!
Ingredients:

1 can black bean (15 ounce- rinsed & drained)
1 can corn kernels (15 ounce – sweet or Mexican corn – drained)
2 plum tomatoes (seeded and chopped)
1/4 cup chopped red bell pepper
1/4 cup chopped green bell pepper
1/2 chopped red onion
1 lime juiced
3 tablespoons olive oil
1 cup chopped cilantro
2 cloves garlic minced
1 tablespoon oregano
1 tablespoon ground black pepper
1. Combine all ingredients & refrigerate at least 1 hour.
2. Stir and serve with corn or tortilla chips.
Tips:
You can make this a day in advance.
Have leftovers? Add taco cheese & shredded rotisserie chicken in flour or wheat tortillas (Old El Paso or similar sold in the refrigerator section,) and have quesadillas in no time. Add to lettuce for a refreshing salad.
Add to lettuce with your favorite dressing, or a squeeze of lime and drizzle of olive oil, for a refreshing salad