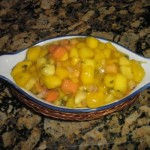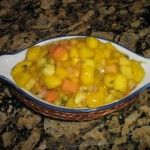 Salsa has become a popular appetizer. Here's our favorite version of a Mango, Papaya & Pineapple salsa.  It's colorful, sweet and spicy.It makes a great topping for fish, chicken, pork or salad.
We'd love to hear your favorites!

Ingredients:
1 rip mango peeled, seeded & diced
3/4 cup diced papaya
3/4 cup diced pineapple
1/4 cup minced red onion
3 tblsp orange juice
1 tblsp lime juice
1 tsp. minced garlic
3 tblsp. chopped cilantro
1/4 minced red pepper
1 tsp jalapeno pepper chopped
1. Mix all ingredients & refrigerate at least 30 minutes.
2. Serve with corn or tortilla chips.
Tips:
1. Goes great with grilled chicken, pork or seafood.
2. Substitute scallions for the red onion
3. Add diced cucumbers or tomato for a different twist
4. Use canned diced pineapple to save time
5. Should be eaten within 48 hours