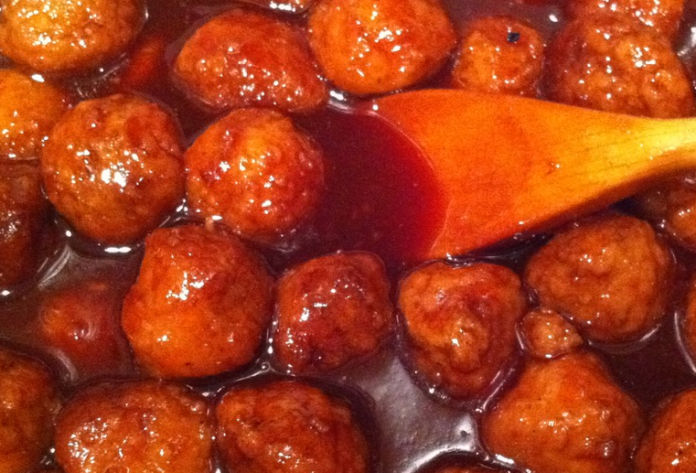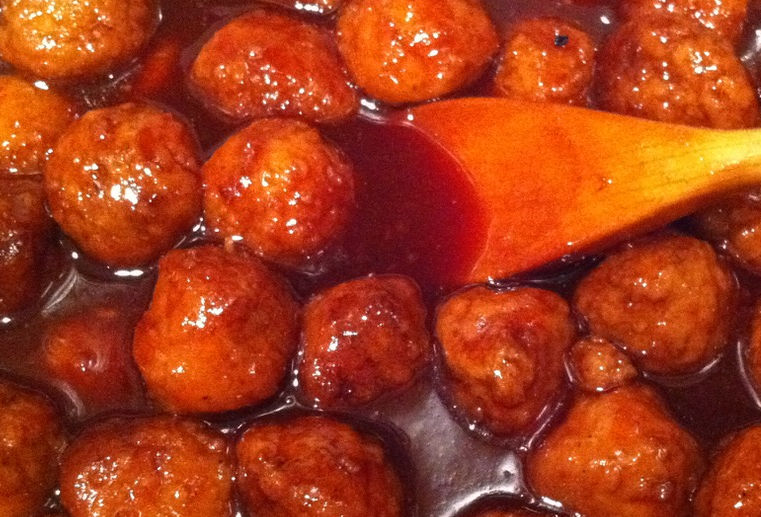 Year after year, this is the most popular recipe searched for on our site. Grape Jelly Meatballs are quick, easy, and, for the most part, on the cheaper end of appetizers, you can make. We went to a cousin's house for a tapas party, and I tried my first Grape Jelly meatball. Who knew a meatball cooked in grape jelly and chili sauce would be so good? I usually would not think to have a meatball in a what looked like bbq sauce, but I was pleasantly surprised.
She used a pack of turkey meatballs along with a large jar of grape jelly and chili sauce – you can't get much easier than that. Another great thing about this recipe is that it is made in a slow cooker. That leaves you time to set it and forget it so you can entertain and enjoy your get-together. A Slow Cooker is also easy to travel with, so you can take it with you to your next party.
This recipe is classic and sure to become an instant party hit. Easy Appetizer Recipe – Crockpot meatballs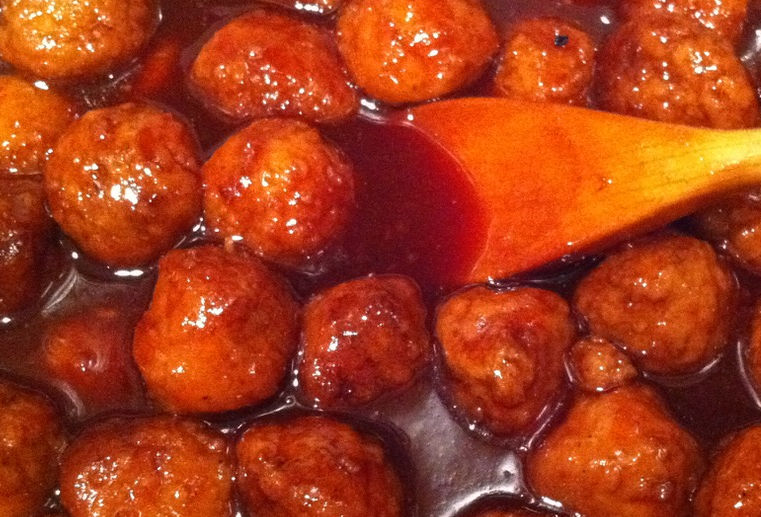 Grape Jelly Meatballs
Easy Grape Jelly Meatballs Recipe for your slow cooker – a sweet and savory appetizer with a bbq sauce like consistency. Crockpot meatballs
Ingredients
2

12 oz

Jars Heinz chili sauce

(a sweet and spicy sauce – don't worry it is not overly spicy)

1

32 ox

Jar grape jelly

1

bag

Store bought Frozen meatballs – small sized (large bag of at least 60+ meatballs – can be beef, italian meatballs or turkey.)

Make sure the bag says they are fully cooked meatballs. Or homemade meatballs work also.

1/2

tsp

cayenne pepper

optional to add a kick
Instructions
Add chili sauce and grape jelly in a large pot or slow cooker

( The consistency will resemble barbecue sauce )

Heat these ingredients until until jelly is melted and sauce is smooth, stirring often. (It will resemble the consistency of bbq sauce)

Add frozen meatballs; heat until meatballs are thawed and then simmer for at least 3 hours and 25 minutes.
Notes
Other Variations of Grape Jelly Meatballs we have tried
– we used the Gardein Plant based frozen meatballs in place of turkey and it was delicious.
You can also decide to make fresh meatballs if you are looking to avoid gluten.
If you are looking for a healthier Grape Jelly we suggest Crofters Organic Grape Fruit Spread. We ordered ours from Thrive Market but Whole Foods also carries is. It is more expensive than regular brands.
Also, if you are looking for

variations or you don't really like Grape Jelly you can replace it with canned cranberry sauce, orange marmalade,

or maybe even raspberry preserves.
You can also use Ketchup instead if chili sauce but the big difference is that chili sauce a nice like spice even a thai chili sauce would work if you can't find the regular one.
No worries if you do not have a slow cooker it can be made just as easily as stovetop grape jelly meatballs
These are great as leftovers as a meatball sandwich
Most Popular Recipes right now