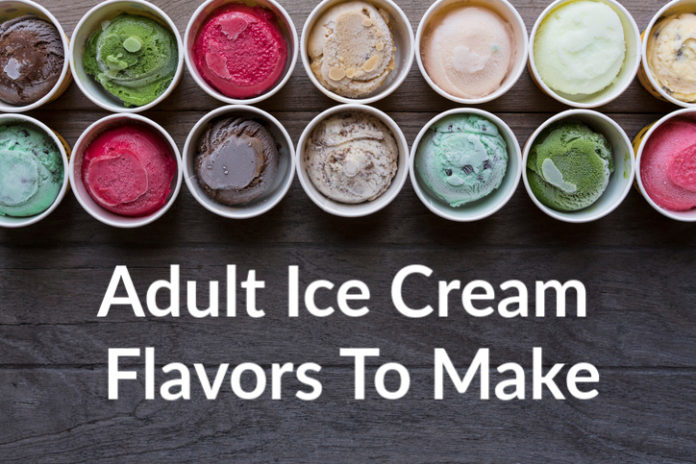 Eating ice cream doesn't mean that kids get to have all of the fun. In fact, about 90% of adults consume ice cream on a regular basis. In order to get in the spirit of enjoying a great ice cream, we've included a few ice cream recipes with an "adult" twist.
Chocolate, Banana, Irish Cream
You'll Need:
– 2 cups chocolate chips
– 2 eggs
– 1 cup Baileys Irish Cream
– 1 1/3 cup whole milk
– 1 banana, sliced into pieces
– ½ teaspoon salt
– ½ cup ice
To Make: Place the ingredients into a blender. Blend until the mixture has a thick consistency. Place in the freezer for 1-2 hours to allow time for it to harden slightly.
Champagne Ice Cream
You'll Need:
– 1 ½ cups champagne
– 1 cup white sugar
– 2 teaspoons brown sugar
– ¼ cups lemon juice
– 1 ½ cups grapefruit juice
– 1 tablespoon light corn syrup
To Make: Place the white and brown sugar, champagne and corn syrup in a pan. Bring to a boil and remove from heat once the sugar has dissolved. Add in the grapefruit juice and lemon juice. Cover and place in the freezer overnight to set.
Bourbon Peanut Butter Cookie Ice Cream
You'll Need:
– 2 cups heavy whipping cream
– 1, 14 ounce can sweetened condensed milk
– 1 cup peanut butter sandwich cookies, chopped
– 1 cup chocolate chips
– ¼ cup bourbon
To Make: Place the whipping cream in a bowl and mix until stiff peaks are formed. Fold in the bourbon and condensed milk. Add in the chocolate chips and the cookies. Cover the bowl and place in the freezer for about 6 hours. Top with caramel or chocolate sauce if you like.
Margarita Pops
You'll Need:
– 1 1/4 cup fresh lime juice (6 to 8 limes depending on size)
– 1, 14 ounce can sweetened condensed milk
– 1/4 cup tequila
– 2 tblsp Triple Sec
– 2 cups frozen mango
– 2 cups strawberries (frozen or fresh)
– 4 limes, sliced 1/4 inch thin for the base of the ice cream
– 3 ounces paper or Dixie cups
– 15 popsicle sticks
– margarita or course salt for garnish
To Make: Stir together lime juice, condensed milk, water, tequila & orange liqueur.  You are going to divide the liquid into 3 batches to make 3 different flavors. 1/3 goes into the cup as is to traditional margarita flavor, 1/3 you are going to make in a blender with the frozen mango and then pour into cups – lastly you will use the last bit of the mix and blend with the strawberries.  Insert a wooden spoon or popsicle stick into the center of each 1/4 inch lime slice and place on top on each cup, making sure there is no room between the mixture and lime slice.  Freeze for at least 5 hours, but will be fine overnight.  When ready to serve cut the paper cuts off and serve the ice cream pops.  Sprinkle with margarita salt. Adapted recipe from Delish.
Champagne Berry Floats
You'll Need:
– Cold bottle of champagne
– Raspberry Sorbet
– 1 cup of berries (blackberry, blueberry or raspberry)
To Make: Putting this together takes no time at all. Place a scoop or two of sorbet into a cup. Pour champagne, top with berries & enjoy!  Feel free to mix it up.  Use vanilla ice cream as your base instead of sorbet.  Uses prosecco or moscato in place of champagne, or even a sparkling red wine & cherries in place of the champagne & berries.