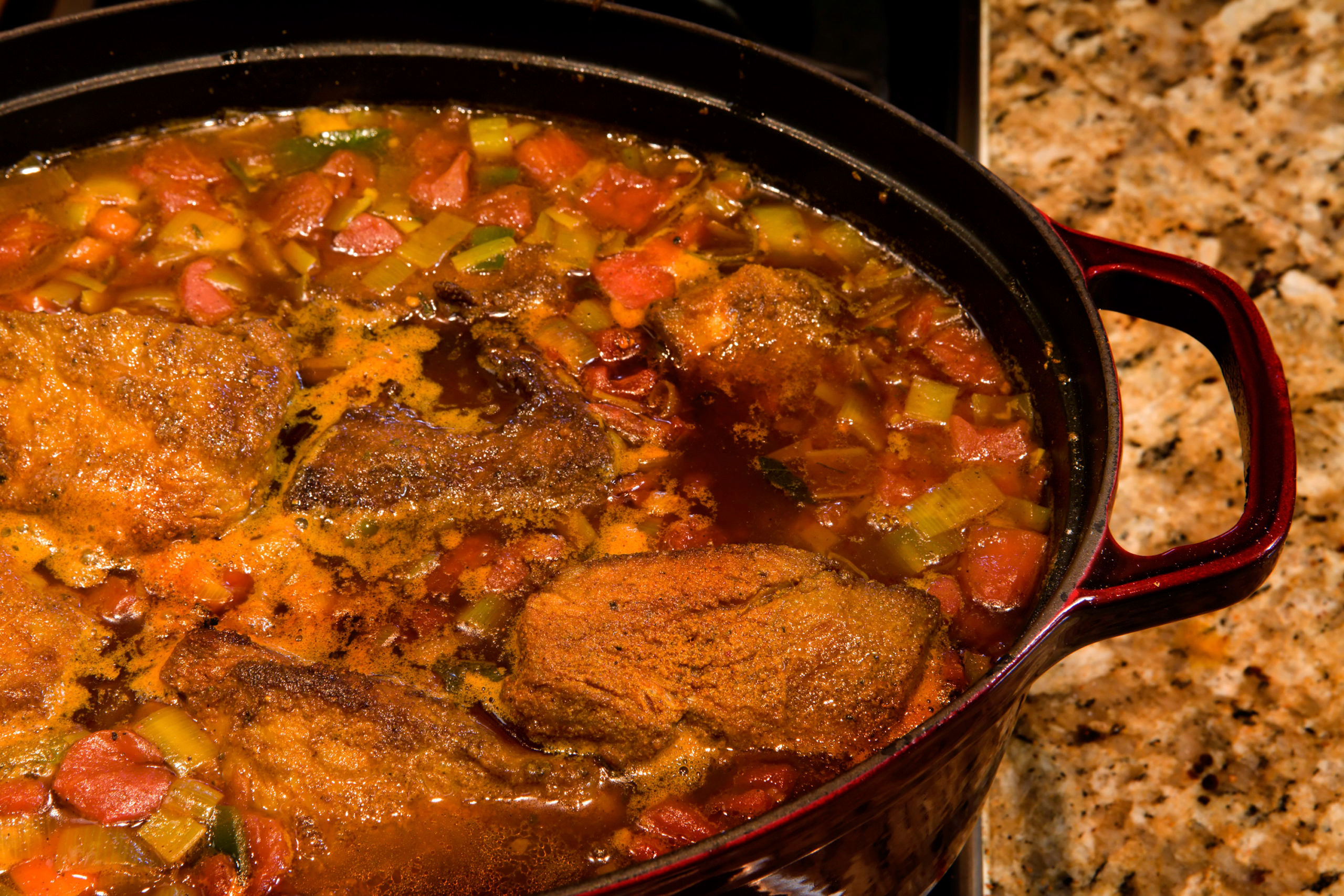 Braised Beef Short Ribs Princess Cruises Recipes
We made this for the family and it was a big hit!  Only change was that we added carrots, and topped with parsley to serve.
Ingredients
8 lb. beef short ribs
3 ½ oz. mushrooms
2 oz. garlic cloves, halved
3 ½ oz. leeks, sliced
4 onions, sliced
2 stalks celery, sliced
1 ½ oz. thyme
1 ½ oz. rosemary
2 bay leaves
6 cups beef stock
Salt and pepper
2 Tbsp. vegetable oil
3 cups red wine
½ cup kalamata olives, pitted
½ cup roasted red pepper strips
Shiitake Glaze
1 T. olive oil
1 lb. shiitake mushrooms, slice
1 lb. white onions, sliced
1 oz. sherry vinegar
¼ c. brown sugar
2 stalks celery, sliced
1 ½ c. chicken stock
1 ½ c. veal or beef stock
Place short ribs in a large container with lid.
Mix together mushrooms, garlic, leeks, onions, celery, thyme, rosemary and bay leaves. Combine the beef stock with the vegetable mixture. Add to container with short ribs. Make sure everything is evenly mixed and marinate for one day in the refrigerator.
Remove the short ribs from the marinade (reserve marinade) and season with salt and pepper. Add vegetable oil to a large, heavy skillet. Sear short ribs in the skillet over medium high heat. Meanwhile, strain reserved marinade through the sieve and reserve liquid.
Remove the seared short ribs from the skillet. Add the vegetables that were strained from the marinade into the skillet to brown for several minutes. Add the red wine to the skillet. Pour reserved marinade liquid into the pan and bring to a boil. Skim the surface. Reduce heat and return the short ribs to the pan. Cover and simmer until tender, about 1 ½ hours.
Remove short ribs from the skillet and keep warm. Measure 2 cups of the sauce from the skillet and place in a separate saucepan. Add olives and bring to a boil. Add red pepper strips.
For Shiitake Glaze:
Add 1 tablespoon olive oil to a heavy-bottomed saucepan. Add mushrooms and brown over medium heat. Remove the mushrooms from the pan and set aside. Add onions to the pan and cook until browned and caramelized. Add sherry vinegar and brown sugar. Return mushrooms to pan and add the chicken and veal stock. Continue to cook until sauce is reduced to desired consistency.
To serve:
Place short ribs on serving plate. Spoon shiitake glaze over the ribs and garnish with the olive/red pepper sauce. Serves 8-10.