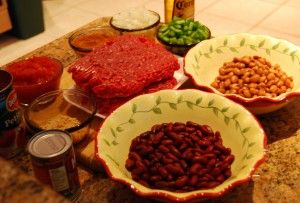 It's cold here so that means it is time for Turkey Chili ! Here is my favorite recipe – it is very similar to the one in the Belly Off Diet book so it is high in fiber and low in sodium !
1 (12 oz) Mexican beer – such as Corona or Presidente – adds a great flavor
Optional toppings
Directions
1. Add olive oil to a large pot or Dutch oven, and saute the onion, bell pepper, and garlic over medium-high heat. Add in the turkey and break up with a wooden spoon while cooking for 5 minutes, or until all the turkey turns white (no longer pink). Stir in the tomatoes with their juice, tomato sauce, kidney beans, pinto beans, chili powder, cumin, and red pepper flakes. Bring to a boil on medium-high heat.
2. Cover, turn down the heat to medium-low, and cook on medium for 1 to 1 1/2 hours.
3. Ladle into bowls, our favorite topping is shredded cheese and chopped red onion and of course a few saltines.
Enjoy !