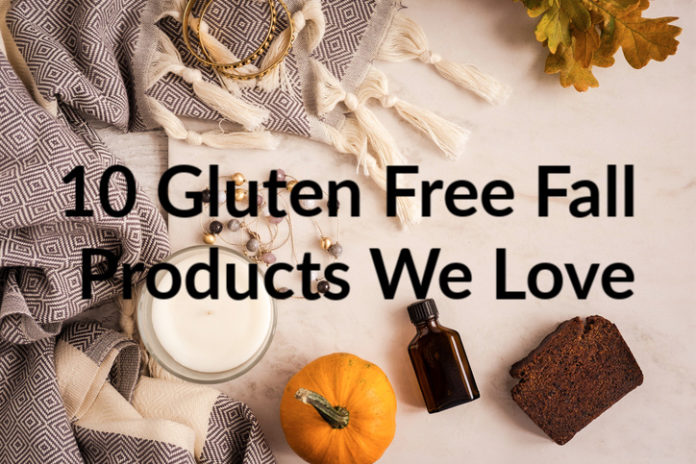 It's that time of year again, where the scents of pumpkin fills the air. Ready to bring on the fall flavors? There's good news is that more and more companies are coming out with gluten free fall products, that taste good.

Here is our list of 10 Gluten Free Fall products we love.
Pumpkin Pecan Pancake & Waffle Mix
Blended using the very best ingredients, this Williams Sonoma gluten-free mix gets its classic autumn character from real pumpkin, pure molasses, sweet spices and crunchy candied pecans. If you don't want to make your own, try Nature's Path pumpkin spice gluten free waffles.
Gluten Free Spiced Apple Quick Bread Mix
Also from Williams Sonoma, spice up breakfast or afternoon tea with the fresh, delicious flavors of spiced apple cider. This gluten-free quick bread combines cinnamon, nutmeg and ginger with real apple pieces to create an irresistible snack or dessert.
Tate's Gluten Free Ginger Zinger Cookies
Tate has to be one of the best pre-made gluten free cookies I have ever had.  These cookies are light and crunchy with prices of crystallized ginger.
Pumpkin Spice Cheerios
This special edition uses real pumpkin puree with a blend of nutmeg, clove & cinnamon.
Pumpkin Spice Greek Yogurt
This Chobani yogurt is so creamy & delicious, you will feel like you are eating pumpkin pie.
Twinings of London Pumpkin Spiced Chai Tea
This has a great blend of pumpkin and savory spices including cardamom, cloves & ginger
Caramel Almond Pumpkin Spice Kind Bar
With crunchy almonds, smooth caramel and a kick of pumpkin spice, this bar captures fall flavors.
Califia Pumpkin Spice Latte
This cold brew coffee is made with almond milk making it both gluten and dairy free. 
Blue Diamond Pumpkin Spice Almonds
These almonds have warm notes of clove, allspice & cinnamon.
Udi's Pumpkin Muffins
Udi's muffins found in your freezer section, have always been a delicious option for breakfast.  These muffins are light and fluffy with just the right balance of pumpkin with hints of cinnamon and nutmeg.