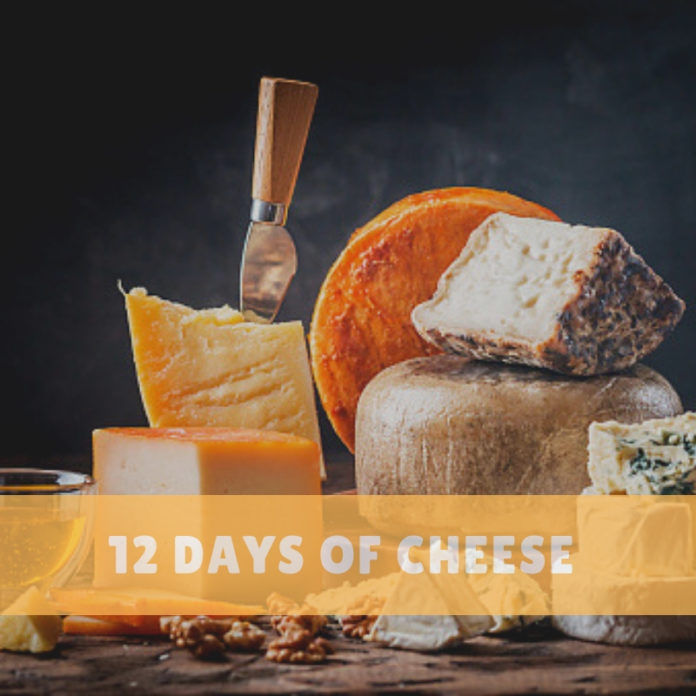 Who doesn't love cheese?! From now until December 23, you can save 50% on a different cheese each day at Whole Foods. If that wasn't enough to entice you, Prime members will also save an additional 10%. While, this event already started, there are still plenty of days left to try some of these cheeses. So if you are ready to enjoy a world of cheese that ranges anywhere from creamy to mouthwatering, check out Whole Foods 12 days of cheese.
Klare Melk Truffle Gouda, December 12
This semi-firm cheese is very flavorful. It's rich and has notes of both butter and sweet cream. It pairs well with Bench Pinot Noir or a stout.
Equirrou Petit Ossau-Iraty, December 13
It's not surprising that this cheese made the list as it's the 2018 World Champion Cheese. This cheese has a nutty, rich flavor and pairs well with Jacques Bardelot Champagne Brut Rose.
Kaltbach Cave-Aged Le Gruyere, December 14
This firm, almost to the point of being crumbly, cheese hails from Switzerland. The flavor of it is pretty robust and has both nutty and tangy fruit notes. It pairs well with Oyster Bay Rose or amber ales.
Vermont Creamery Bijou, December 15
For those wanting a creamy cheese with some sweetness, this is a great choice. The flavors become more robust as it ages and this cheese pairs well with Paul Buisse Touraine Sauvignon Blanc.
Herve Mons Camembert, December 16
Full of flavor, with earthy overtones, this cheese can only be found at Whole Foods. It pairs well with Jacques Bardelot Champagne Brut or cream stouts.
Neal's Yard Dairy Keen's Cheddar, December 17
Made with raw milk, this cheese is considered to be a true cheddar. It's unique in that is has a creamy, yet dense texture. The flavors are rather complex as they range from mustardy to fruit. This cheese pairs well with Chateau Miqueu Haut-Medoc or pale ales.
Cypress Grove Humboldt Fog, December 18
This soft cheese is made out of goat's milk and has herbaceous and floral overtones. It pairs well with Grace Hale Sparkling Sauvignon Blanc.
Uplands Cheese Pleasant Ridge Reserve, December 19
Known for its sweetness, this cheese has a variety of different flavors that can range from fruity to grassy. It's only made with grass-fed milk and is produced from May through October. It pairs well with Domaine Chanson Vire-Clesse.
Saxon Creamery Hika Bay, December 20
This Gouda-style cheese received the Best In Class award at the 2018 World Cheese Championship. It is buttery, but has fruit notes. It is only available at Whole Foods and it pairs well with Bread & Butter Chardonnay.
Rogue Creamery Organic Enraptured Blue, December 21
Exclusively found at Whole Foods, this blue cheese has notes of berries and currants as well as earthy undertones. Its finish is savory and it pairs well with 5th & Bowie Bourbon Barrel Aged Cabernet Sauvignon.
Mitica Mini Drunken Goat, December 22
It takes a three-day bath in the tasty, Mourvedre wine to give this cheese its complex flavor. It is semi-firm, yet creamy and pairs well with Bodini Cielo Rojo and ales.
The Cellars At Jasper Hill Farm Willoughby, Kombucha Washed, December 23
This is the world's only kombucha-washed cheese. It's buttery and has peach flavors. It can only be found at Whole Foods and pairs well with G.D. Vajra Barbera d'Alba.
While the 21 days of cheese has already started, you can still find these cheeses at a store near year even if the discount isn't currently applicable on the day of your visit. Which cheeses will you try in the upcoming days?
Other blogs that may interest you: New Year's Lucky Foods,  New Year's Lucky Fruits, New Years Traditions and Superstitions and Lucky Food Recipes for the New Year.
New Year's Lucky Food Recipes (on Pinterest)