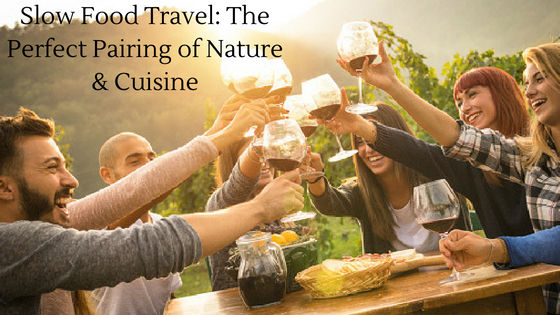 Slow Food unites the pleasure of food with responsibility, sustainability and harmony with nature," noted Carlo Petrini, founder and president of the Slow Food grassroots movement which began in 1986. Nowhere is that perfect pairing of nature and cuisine more evident than France and Italy. From vintage wines to earthy truffles, handmade olive oil and artisan cheeses, these two countries are ripe for Slow Food Travel.
Inspired by the Arcigola association in Piedmont, Italy, the Slow Food movement began officially in 1989 in Paris where the founding Manifesto was signed, detailing the movement's commitment to "rediscover the rich varieties and aromas of cuisine" and to assure people a "better quality lifestyle." It developed in response to that fast-food-loving, fast-moving decade. The first Slow Food International Congress was held the following year in Venice, Italy. Slow Food Travel grew naturally from this movement, spreading throughout Europe and across the globe. Today, the alliance exists in more than 150 countries, with more than 100,000 different members.
The regions that gave birth to the movement, France and Italy, are home to a variety of authentic culinary travel experiences where by farmers and chefs, winemakers and fishermen open their kitchens, gardens and vineyards to small groups of curious culinary explorers, pairing regional ingredients with historic locales. There's no better way to experience the heart of a country than with a local host who truly understands what makes it beat. Slow Food Travel lets you share traditional repasts with an intimate group of travelers, and discover what is behind the balance between people and their land.
Taste France's Joie de Vivre
In 1962, France's President Charles de Gaulle mused over his country's diversity, noting that it was impossible to govern a country with 246 types of cheese. Five decades later, nearly twice as many varieties exist.
The possibilities for Slow Food Travel are endless in France. You can meet face-to-face with a cheese maker in the small village of Cuges Les Pins, to sample some of his finest creations made from his farm's goat's milk. Or be transported to a slower, earlier time as you breathe in the fragrance of a lavender field in Provence. Imagine feasting on colorful heirloom tomatoes picked fresh from the garden and simmered slowly into a hearty bouillabaisse made from fish caught that morning, served by a fisherman in Marseilles, where the dish first evolved. Discover the world's only subterranean cultivation of mushrooms at La Cave des Roches, also known as the Cave of Rocks, which spans seven levels at a depth of 164 feet, and is perpetually kept at a cool 54 degrees. All of these experiences encompass Slow Food Travel at its very best, and they are a grand way to celebrate the French joie de vivre.
There's no finer complement to learning about the Slow Food movement in France than exploring France's passion for wine. The Loire Valley, considered to be the "Garden of France," produces the most extensive varieties of wine in any region in the country. Here, you can see enchanting chateaux as you discover traditional ways of wine making. Near La Cave des Roches, local vineyards such as Domaine Les Loges de la Folie will teach small groups about organic wine cultivation, from grape to glass. It's a wonderful way to share an intimate tasting with your small group of Slow Food traveling companions hosted by knowledgeable, dedicated wine growers. Many France escorted tours now include visits to unique vineyards, farms and olive groves as part of their itinerary.
Feast on La Dolce Vita in Italy
Throughout history, Italian culture has lent itself perfectly to the unhurried celebration of life and food, also known as la dolce vita. Hours spent socializing over a slow-cooked meal crafted with local and sustainable, seasonal ingredients, lovingly prepared and topped off with the perfect Barolo wine remains an everyday occurrence in Italy, and it embodies the essence of Slow Food Travel. Begin your journey in Piedmont, where the Slow Food movement began, you gain a true sense of the motives and values behind it. See why Piedmont's rich culinary traditions and historical-artistic heritage influenced the movement, and taste it in every bite of sheep's milk cheese from Langhe and every sip of wine from Barolo. In nearby Pollenzo, you can tour the Slow Food Banca del Vino, or Bank of Wine. Created by Slow Food movement founder Carlo Petrini in 2001, the bank aims to preserve a historical record of Italian wine and to educate people about the regions behind every wine label.
The "green heart of Italy," Umbria, is yet another ideal destination. Here, you can stroll through the picturesque hill towns of Assisi, Orvieto and Todi, savoring the fruits of the Italian harvests of salty olives and sun-kissed grapes, grown for centuries in family-owned vineyards. Sample another regional specialty, handmade extra-virgin olive oil, at the Romanelli family's ancient olive groves. Or taste one of Orvieto's traditional desserts, chocolates made from chilies and saffron, at a local pastry shop.
Sicilian cooking also showcases the tenets of the Slow Food movement in bold fashion, with its focus on simple, local ingredients brimming with aromatic spices and intense flavors. Its cuisine reflects more than 2,500 years of cross-cultural influences from the Greeks, Romans, Arabs, Normans, Spanish, French, and English. Here, you can tantalize your taste buds with the authentic Spanish-influenced local cuisine often featuring tomatoes, potatoes, peppers, squash, and chocolate. Journey to Sicily's historic town of Erice and tempt your sweet tooth with pastries made from 15th-century recipes. Escorted Italy tours and vacations are now available for travel in Tuscany, Rome and Sicily.
Syracuse, Ragusa and Modica, provide a breathtaking backdrop for the Slow Food experience. Get a taste of history as you share traditional culinary delicacies and cooking preparations taught by local chefs.
Whichever regions you choose to explore, Slow Food Travel will treat your palate and senses to a once-in-a-lifetime culinary adventure. Share in the epicurean celebration with farmers, fisherman, cheese makers, chefs, wine makers and like-minded travelers.