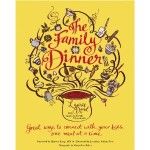 Another great segment from the todayshow.com – I can't wait to buy this book !
Environmental activist and producer Laurie David has an idea: Over dinner. In her new book, "The Family Dinner: Great Ways to Connect with Your Kids, One Meal at a Time," David shares easy-to-prepare recipes and ideas for engaging children and teens during the most important hour of the day.
For example, consider just one recipe from the book for Thai chicken wraps. David points out that kids can get involved by helping with the following tasks:
—Tearing the mint into little pieces.
—Pinching the tips and tails off the green beans.
—Washing the vegetables.
—Tasting to make sure the chicken is perfect.
Here's the recipe so you can give David's ideas a try at home:
Recipe: Thai chicken wraps
http://today.msnbc.msn.com/id/39996038/ns/today-foodwine/
by Laurie David
Ingredients
For the chicken filling:
1 tablespoon vegetable oil
2 cloves garlic, finely chopped
2 tablespoons grated fresh ginger or 1/2 teaspoon ground ginger
1/4 cup water or stock
1 pound ground chicken
1/4 cup chopped fresh mint leaves
2 tablespoons sliced shallots
1 teaspoon Asian chili sauce or to taste
1 sliced Thai chile pepper (very spicy, so optional)
1/4 cup lime juice
2 teaspoons brown sugar
2-3 tablespoons Asian fish sauce
For the wrappings and toppings:
18 whole large lettuce leaves (about 3 lettuce heads)
1/2 pound young raw green beans, thinly sliced on the diagonal
2 cups bean sprouts
1 cucumber, cut into strips with your peeler or mandoline
1 large carrot, shredded
Some fresh mint, cilantro, and basil
Cut limes
Asian chili sauce
1/2 cup chopped peanuts
For the dipping sauce:
1/4 cup lime juice
1/4 cup sugar
1/2 cup water
1/4 cup Asian fish sauce
1 clove garlic, minced
Preparation
Mix all the ingredients for the dipping sauce in a little bowl.
In a medium nonstick pan, heat the vegetable oil and sauté the garlic and ginger over medium heat until light brown. Add 1/4 cup water or stock, then add the chicken and stir well, separating the chicken into small bits. This should take you about 4 to 5 minutes. Drain out the water.
Transfer the cooked chicken into a mixing bowl. Add the remaining ingredients for the filling and mix well. Taste and season until there is a good balance among the sweet, tart and savory flavors. You might need a bit more fish sauce, another squeeze of lemon, a little more hot sauce …
On a large platter, mound the vegetables, herbs, and chicken. Serve with little bowls of the dipping sauce, cut limes, fish sauce, chili sauce and chopped peanuts. At the table, fill lettuce leaves with flavorful minced chicken, vegetables and pieces of torn herbs. Add a squeeze of lime or some peanut crunch, and roll it up.
Serve with some steamed brown rice on the side, and you have a perfect summer dinner.
Serving Size
Makes 4-6 servings