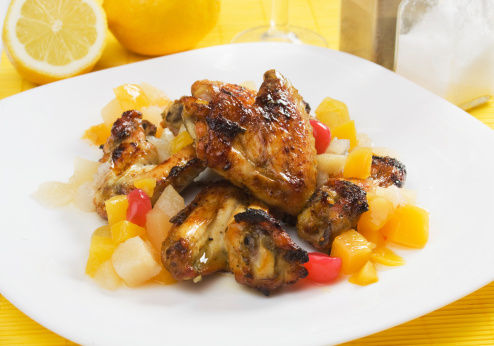 The Parrot Cay restaurant can be found onboard the Disney Wonder, Disney Magic and Disney Dream. In 2012, the new Disney Fantasy will also include the Parrot Cay restaurant.  Here is a simple recipe for a take on their Spice Island Chicken Wings.
Ingredients:
2  teaspoons paprika
1  teaspoons of garlic powder
1  teaspoon of onion powder
1  teaspoon of chill flakes
1  tablespoon olive oil
2  cups of your BBQ sauce
Salt to taste
Preheat oven to 350.  Mix the first four ingredients to make your dry rub. Add a little salt if desired, although it tastes fine without it. Wash and pat down the chicken wings.  Coat evenly with the dry rub.  Lay the chicken wings on a pan and drizzle with olive oil.  Cook for 15 minutes.  Brush on BBQ sauce and cook for 3 to 5 more minutes.  You can also deep fry the wings for extra crispiness once you have applied the Bbq sauce.
Learn more about Disney Cruises
See other popular cruise line recipes