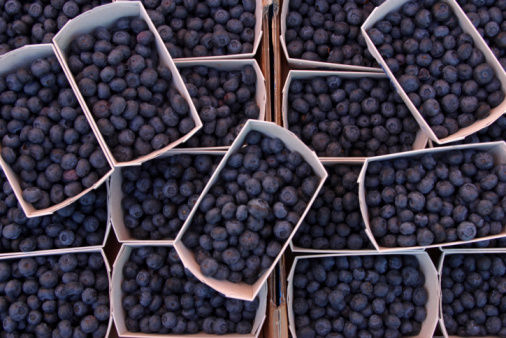 School is back in session but the summer isn't over quite yet. Labor Day is coming up and I am always looking for something new to take to parties that is delicious and healthy. Our good friend Renee from Get Innergized with Renee has a perfect summer blueberry pie recipe!
Summer Lovin' Blueberry Pie
In my opinion, blueberry pie is actually a lot easier than apple. Because the apples take longer to prepare. You just rinse the blueberries and then add some cinnamon, lemon zest, lemon juice, sugar and some flour. Mix it all together and then place in the dish. I used a store bought pie crust but you can make your own.
Ingredients
3 to 4 pints of blueberries (depending on how large your pie dish is)
2 whole pie crusts
1/3 cup to 3/4 cup of sugar
3 to 4 tablespoons of flour (less if you want it runny)
1 tablespoon lemon juice (freshly squeezed)
1/2 teaspoon lemon zest
1/2 teaspoon cinnamon
1/2 stick of butter (sliced)

Directions:
1. If you used a store bought pie shell, take out of fridge, and let it warm up to room temperature.
2. Pre-heat oven to 400 degrees.
3. Take blueberries out of their pints and remove any stems.  Then rinse in colander.  I then used a paper towel to pat them dry.
4.  Add sugar, flour, lemon juice, lemon zest and cinnamon to blueberries.  Mix.
5. Place blueberry mixture into pie dish.  Add sliced butter squares around blueberry mixture.
6. Place second pie crust on top.  Make four to six slits on the top, in the middle.
7. Place in oven, and let cook for 35-40 minutes.  It will bubble when it's done.
8. Let cool.
9. Place on your most lovely serving dish. Turn off all distractions, sit down by yourself or with your family, take a few deep breaths, say how much gratitude you have for your food, your family, your life and dig in, slowly and savor the deliciousness!
10. Oh, and if you really want to add some more yumminess to it, vanilla ice cream will do it!
You can visit http://reneeyemma.com/2011/07/blueberry-pie/ for the complete recipe and more photos.
©  2011 Renee Yemma ® All Rights Reserved.
Renee C. Yemma, Holistic Health Coach.  She is a mother, writer, teacher, coach, photographer and so much more.  To receive weekly healthy living articles on loving delicious, nutritious foods and putting YOU first without feeling guilty about it, visitwww.reneeyemma.com.