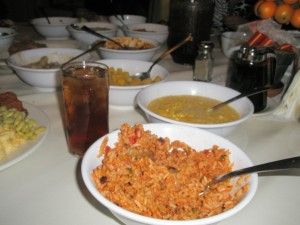 To appreciate the dining experience at the Wilkes Restaurant in Savannah, let me take you back in time to the early 1900's…the city had lost many lives in the civil war and to yellow fever, a massive earthquake hit the area in 1903 and again in 1912.  Food was scarce and the economy was in ruins.  During these difficult economic times, boarding houses were common place for laborers, soldiers, traveling salesman, teachers and those looking for an affordable place to live with two meals per day.  Mrs. Wilkes House provided such a place since the 1930's.  Although there were many boarding houses to choose from, the Wilkes House built a reputation for having the best food.  Word spread, and through the years locals not staying at the boarding house began asking if they could purchase meals there.
Today, the Wilkes Dining Room is open to diners using the same depression-era ingredients, to serve a delicious southern family style meal to diners five days per week. The line starts forming at 10:30 a.m., more than half of which were locals taking their lunch breaks from work.  Doors opened promptly at 11 a.m. where you sit in tables of 8 to 10 people. Already awaiting diners were more than 15 bowls of home-made food.  Like at many family dinners, the meal began with a short blessing, and then bowls brimming with homemade southern food were passed around. Sitting next to us was a man named John, who stated he ate at Mrs. Wilkes Restaurant at least 3 days per week for the past 10 years. Next to him was a man who used to live at the boarding house year ago, and has eaten at the Wilkes House almost daily for the past 40 years – can you imagine?
On the menu that day was fried chicken, beef stew, bbq beef, okra stew, lima beans, sweet potato casserole, red rice and sausage, white rice, cheese mashed potatoes, macaroni and cheese, corn bread stuffing, black eyed peas,  creamed corn, cucumbers, pickled beets, yellow squash, butternut squash, carrot salad, collard greens, snap peas, gravy and biscuits. Dessert was a choice of cherry cobbler or banana pudding.  It felt like Thanksgiving.  At the end of the meal in true boarding house fashion, everyone takes their plates over to the dishwashing area.  The cost is $16 pp.
Mrs. Wilkes' Dining Room is a hidden treasure in Savannah. I strongly recommend you make time to eat here during your next visit.