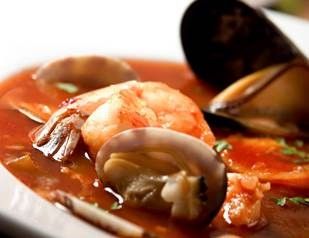 This is a one pot meal that is very filling. No need to serve with anything else, unless you enjoy dipping French or Italian bread into the delicious sauce.  The nice thing about this dish is that you can add your own touch by adding different spices and herbs to enhance the flavor.
Ingredients:

2 cups white onion
1/2 cup green pepper
1/2 cup red pepper
8 cloves garlic – chopped
1/2 cup olive oil
3-4 fresh basil leaves or 2 tsp. dried basil
1 tsp oregano
1 tsp thyme
1 tsp cumin
2 bay leaves
1 pinch cayenne pepper
1 pinch paprika
3 cups fresh plum tomatoes diced
or 1 large can diced tomatoes  (28 ounce w/ liquid)
1 can tomato paste (6 ounce)
1 1/2 cups white cooking wine (or dry white whine)
1 cup clam juice
1 cup chicken stock
1 cup fresh parsley
1 1/2 pounds cod filet cubed
1 pound med or large shrimp (peeled & deveined)
1/2 pound bay scallops
1 pound mussels (cleaned & debearded)
1/2 pound clams
1/4 cup cilantro
Directions:
1.  Sauté the onions, peppers & garlic in olive oil, stirring occasionally
until onions are soft.
2.  Add tomatoes, tomato paste, wine, clam juice, chicken broth, basil,
oregano, thyme, cumin, bay leaf, 1/2 parsley and black pepper. Cover
& simmer for 40 minutes.
3.  Add fish, shrimp, scallops, mussels & clams. Bring to a boil. Lower the
heat and simmer about 7 to 10 minutes until mussels and clams open.
4.  Serve in bowls & add fresh chopped parsley (& cilantro if you like the
taste,) to each bowl.
Tips:
Don't add the seafood until you are ready to eat, as over cooking will make seafood dry and chewy.
Not a fan of fish? This works with great with just shrimp and scallops or your favorite.
You can serve over pasta or rice or in a bread bowl
Having guests? Make the broth the day before & refrigerate.
If you like the consistency of a thicker sauce rather than broth, add 8 ounces of canned tomato sauce.
Want to save time? Used canned clams & frozen seafood.
Substitute or add any seafood you'd like…lobster, crab, oysters, calamari, etc. they all taste great once you have your base.
This meal will require you get your "hands dirty" to really enjoy the seafood.
Have extra plates or a platter where everyone can put their shells.