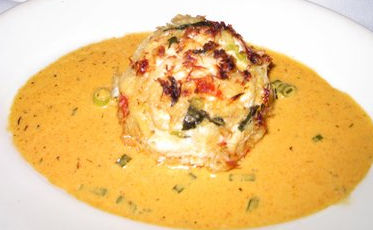 There are several versions of this Del Frisco Crab Cake recipe on the web.  This is the one we feel was spot on for the crab cake. The remoulade sauce however is different, as in the restaurant they use a Cajun Lobster Cream Sauce.
Ingredients:
1 pound crabmeat, jumbo lump, fresh
1 cup onion, 1/4-inch diced
1 cup celery, 1/4-inch diced
3 egg whites
4 ounces heavy cream
1 ounce white bread, crust removed, 1/4-inch diced
1/2 teaspoon kosher salt
1/4 teaspoon Old Bay seasoning
2 ounces green onion, 1/8-inch diced
2 ounces unsalted butter, melted
Remoulade
1/2 cup creole mustard
1 cup mayonnaise
3 tablespoons capers, miced
1/4 cup dill pickle relish
1 tablespoon tarragon
1/2 teaspoon kosher salt
1/2 teaspoon lemon juice
Garnish
2 sticks chives, 3-inches long
1 wedge lemon
Recipe Info
Soak white bread and cream together
Place a sauté pan on the stove top on medium heat and add butter to the pan
Add the onion and celery and sweat them till they are soft (3 to 4 min on med heat)
Transfer the softened Vegetables to a half size sheet pan and cool in fridge
Pour crabmeat onto half size sheet pan and pick out shells
Transfer cooled veggies to stainless steel mixing bowl and add heavy cream and soaked bread
Fold in all ingredients except for the crab
Fold in crab meat carefully so that you leave some lumps
Let crab cake set in fridge for 2 hours
Take 4 ounces at a time and shape into a crab cake
Bake at 350 degrees for 15 minutes
Serve with remoulade and lemon.
FOR THE REMOULADE
Place all ingredients into a stainless steel bowl and whisk with a wire whip to combine.
Once sauce comes together taste to check seasoning then transfer to a small plastic container and let sit for 4 to 6 hours before using.