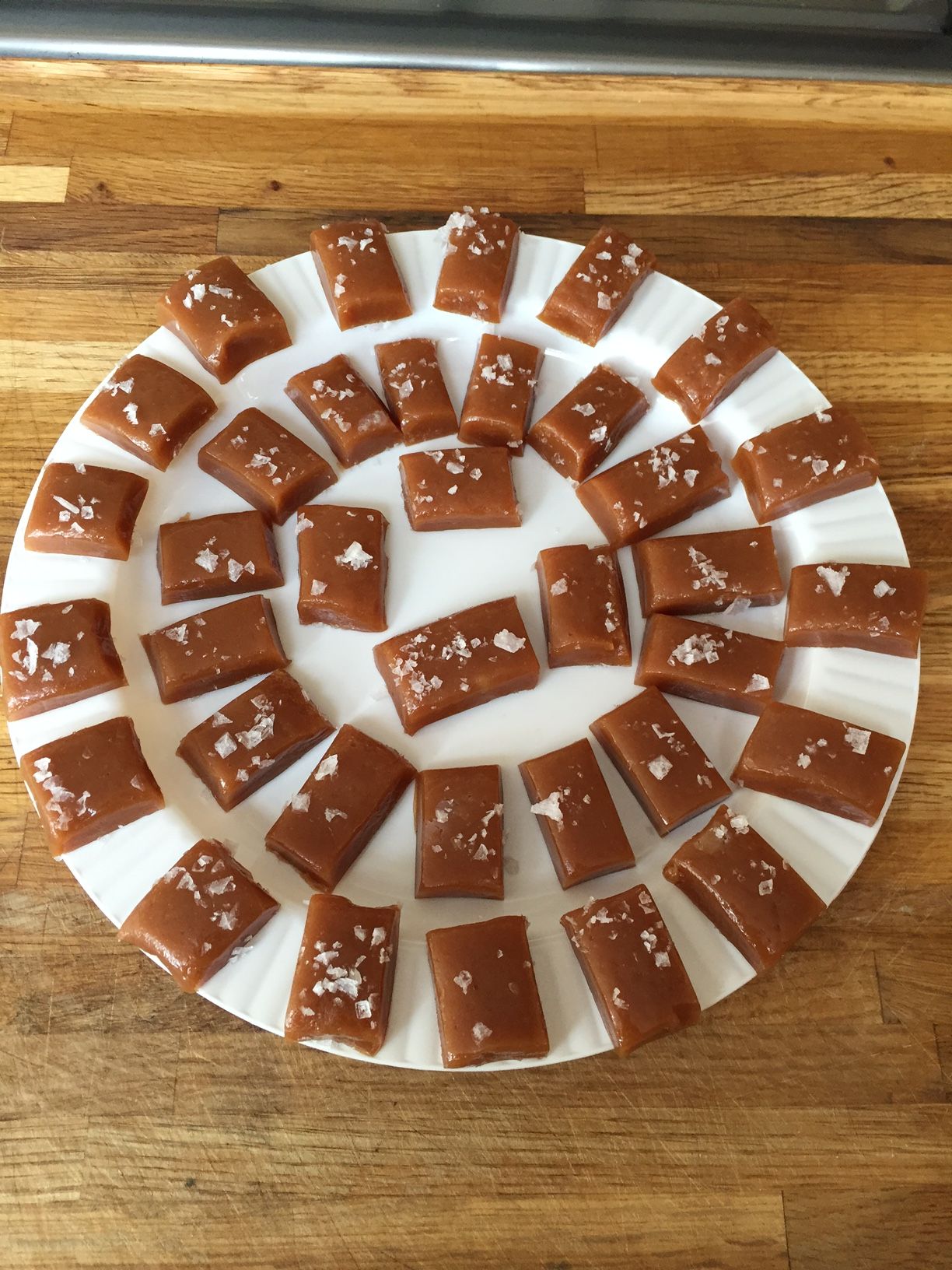 These are great for parties.
Ingredients:
1 1/2 cups sugar
1/4 cup water
1/4 cup light corn syrup
1 cup heavy cream
5 tablespoons unsalted butter
1 teaspoon sea salt
1/2 teaspoon pure vanilla extract
Line an 8 inch square baking pan with parchment paper, allowing it to draper over the sides.  Brush with butter or spray with PAM (non-stick spray)
In a deep saucepan combine 1/4 cup water, sugar and corn syrup and bring to a boil over medium-high heat.  Boil until the mixture is a warm golden brown.  No need to stir, you can just swirl the pan.  Watch closely as it can burn easily.
In a small pot, heat cream, butter and 1 teaspoon of sea salt on medium heat until simmering.  (4 to 5 minutes)  Turn off and set aside.
When sugar mixture is ready, remove from heat and slowly add the cream mixture to the sugar.  BE CAREFUL not to add too quickly as it will bubble over.  Stir in the vanilla with a wooden spoon and cook everything together over medium low heat for 10 minutes.  If you have a candy thermometer stop when it hits 248 degrees.  If you don't have one, then watch for the mixture to be firm and stark to turn into a ball.  Carefully and slowly pour the caramel into the 8 inch square pan.  Refrigerate for a couple of hours until firm.
When the caramel is cold, pry the sheet from the pan and place on a cutting board.  Cut into squares and top with desired amount of course salt.