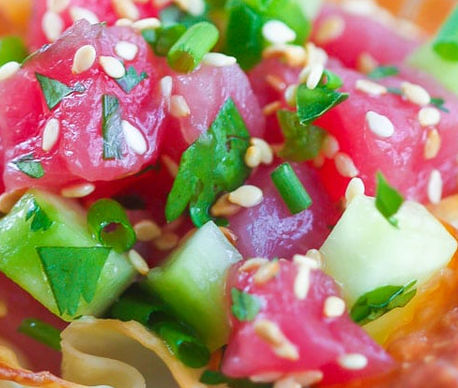 PF Changs shared this recipe for their new Happy Hour appetizer, Tuna Taki Crisps. The Orange Soy Sauce and Spicy Lime Mayo should taste great with any seafood.
Ingredients:
12 oz. ahi tuna block
4 oz. English cucumber, peeled and diced
1 Tbsp. scallions (green part only), sliced thin
¾  tsp. toasted sesame seeds
10 wonton skins
2 c. vegetable oil
1 tsp. olive oil
1¼  Tbsp. orange soy sauce (see recipe)
Spicy lime mayo (see recipe)
Cilantro leaves, no stems
 Directions:
Take tuna and cut off a little less than have, so you have about a 5-oz. piece left. Rub smaller piece with olive oil and season with salt and pepper.
Heat a nonstick pan over medium heat and place the seasoned tuna in the pan, searing for 1 minute. Turn over and let sear for another minute. Using tongs, sear on the thin edges of the tuna for 1 minute each. All sides with the exception of the ends should not be seared. Place in refrigerator to cool.
Take remaining tuna block and chop into ¼x¼-inch pieces.
Mix diced tuna, cucumber, scallions, toasted sesame seeds and orange soy sauce gently in a clean metal bowl. Place in refrigerator.
Heat vegetable oil in medium saucepan over low heat.
Cut square wonton skins in half making two triangles.
Deep fry triangles for about 45 seconds to 1 minute until crispy and light brown. Place on paper towel to drain oil. Reserve for assembly.
To Assemble:
Take cooled, seared tuna and slice very thin into ½-oz. slices. Place sliced seared tuna slice on crispy wonton triangle. Place 1 Tbsp. of marinated tuna mixture in the center of the crisp on top of sliced tuna.
Using a small spoon, place a small dollop of spicy lime mayo sauce on top of marinated tuna, garnish with a cilantro leave. Serve within 15 minutes of assembly so wontons stay crisp.
Orange Soy Sauce:
¼  c. soy sauce
1 tsp. fresh ginger, minced
¼  tsp. sesame oil
½  tsp. orange zest
1 tsp. lime juice, fresh squeezed
1 tsp. rice vinegar
Place all ingredients in a small mixing bowl and mix well.
Note: When zesting orange, do not zest too far into orange. Too much white flesh will result in a bitter taste.
Spicy Lime Mayo Ingredients
1 c. mayonnaise
2¼  tsp. Sriracha hot sauce
¼  tsp. soy sauce
½  tsp. lime juice, fresh squeezed
¾  tsp. rice vinegar
Place all ingredients in a small mixing bowl and mix well.