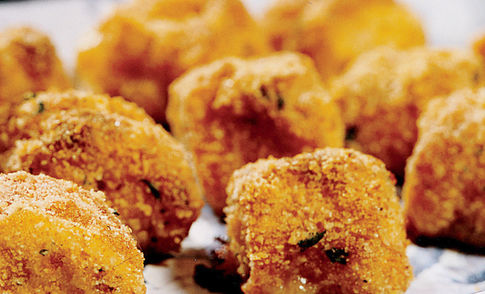 Delicious, bite size appetizer that's requires only a few minutes of prep time.
Ingredients:
2 cans refrigerated buttermilk biscuits
1 egg
8 ounces of shredded swiss cheese
3/4 cups ham chopped into small pieces
3/4 cups cooked chicken chopped into small pieces
1/4 cup sliced green onions
Sesame or poppy seeds
2 tablespoons honey mustard
Directions:
1.  Heat oven to 375 degrees. Coat baking pan with non-stick spray.
2.  Comine cheese, ham, chicken, onions and mustard…mix well.
3.  Open biscuits and seperate.  Biscuits are usually thick, so cut in half, and then press each biscuit to form 3 inch rounds.  Place 1 tablespoon of filling on each piece of dough. Lift sides and close over the filling to make a ball. Repeat until you have used all the mixture.
4.  Brush with beaten egg wash and sprinkle with sesame seeds.  Bake for 18 to 22 minutes until golden brown.
Tips:
For the holidays, you can put the balls side by side in a circle and make a wreath when baking. Top with diced colorful peppers and scallions for added color and you have a great presentation.
Leave the honey mustard out of the mixture and serve as a dipping sauce instead.
We use low sodium ham and it does not change the taste.