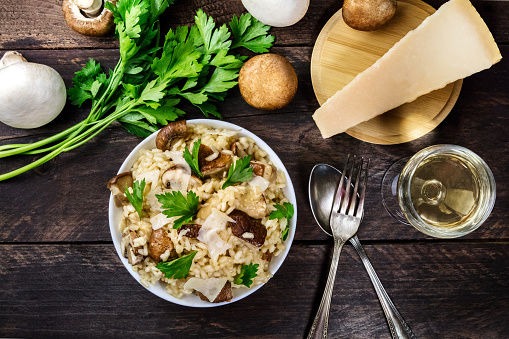 Palo can be found on all Disney cruise ships (Disney Dream, Disney Fantasy, Disney Wonder & Disney Magic.) Palo is named after the long poles used to push and pull gondolas, Venetian masks adorn the walls, a backlit bar sits at the center and an open kitchen adds to the magic. Elegant glass, inlaid wood paneling and sweeping panoramic floor-to-ceiling ocean views make this the perfect setting – it is an adult only restaurant. There is a charge of $20 pp for brunch and dinner and $10 pp for high tea.
Ingredients:
1 ounce dried porcini mushrooms
3 cups vegetable stock
4 cups chicken stock
2 cups sliced fresh mushrooms, any variety
2 tablespoons olive oil
1 tablespoon butter
1 medium onion, chopped
1 medium leek, white part chopped
1 garlic clove, minced
4 tablespoons chopped Italian parsley
1 pound Arborio rice
2/3 cup white wine
1/2 cup freshly grated Parmesan cheese
Salt and freshly ground black pepper, to taste
Fresh basil leaves, for garnish
Directions:
Place porcinis in a bowl and cover with boiling vegetable stock. Steep for 30 minutes. Remove mushrooms with a slotted spoon; set aside. Strain stock through a fine sieve and add to chicken stock.
Sauté fresh mushrooms in 1 tablespoon of olive oil in a skilled until tender; set aside.
Melt butter and remaining tablespoon of olive oil in a large pan. Add onion, leek and garlic and cook over medium heat until the onions are transparent. Add 2 tablespoons of parsley and the rice, and stir to coat.
Add the wine, and stir until it is evaporated. Then add mushrooms and stir, reduce heat and add a ladle of chicken stock.
Stir the rice until the liquid is absorbed, add another ladle of stock; continue in this manner until all the stock has been added and the rice is tender but firm.
Remove from heat and add Parmesan and remaining parsley. Season with salt and pepper and garnish with fresh basil.