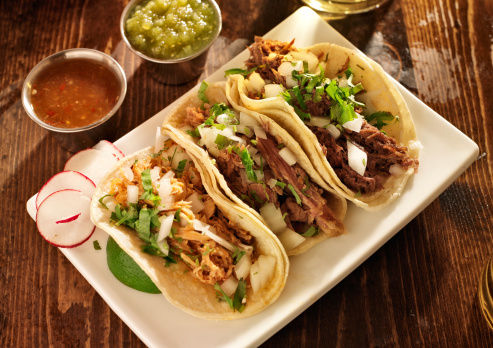 Happy National Taco Day!
We love Tacos! Does not matter if it is National Taco Day, on Taco Tuesdays & every day!
This Mexican dish is usually served in the U.S. in a hard corn tortilla shell with beef, chicken or seafood and toppings like cheese, lettuce, tomatoes and sour cream. Here are some interesting facts about tacos that might make you want to have a few of them for dinner tonight.
History
The inventor of the taco is unknown, partly because this dish has become so popular that many countries have taken credit for it. Anthropologists have stated that they have found evidence that individuals that lived in the Valley of Mexico during the 16th century ate fish tacos. Conquistador Hernando Cortez is credited with making the first documented reference to tacos. In 1520 he wrote a letter to King Charles V of Spain that mentioned a tortilla he ate with Aztec inhabitants.
Fun Facts About Tacos
– Tacos used to be sold by street vendors called "taqueria". This word means taco shop in Spanish.
-To this day, taco trucks are pretty popular. The first one was started by two housewives in New York in 1966.
-More than 4.5 billion tacos were eaten by Americans last year. That equals about 490,000 miles of tacos. That equals 775 million pounds
-Tacos and other Mexican cuisine became popular in the U.S. after the World's Columbian Exposition that took place in Chicago in 1893.
Popular Types of Tacos
Throughout the world people choose to fill their tacos with a variety of items. One type of taco served in Mexico called, Tacos de Cabezza is filled with every part of the cow you can think of including the lips, eyes and brain. In the United States, tacos aren't just for lunch or dinner. Breakfast tacos have ingredients inside of them like eggs, cheese and avocado. In places like Guerrero and Morelos where meat can be expensive, they fill their tacos with insects and snails.
As you can see, tacos have been enjoyed all over the world in many different ways for many centuries. Celebrate National Taco Day by inviting some friends over and have a taco bar. Bon appetit!
FYI: October 4th is also National Vodka Day – Cheers!