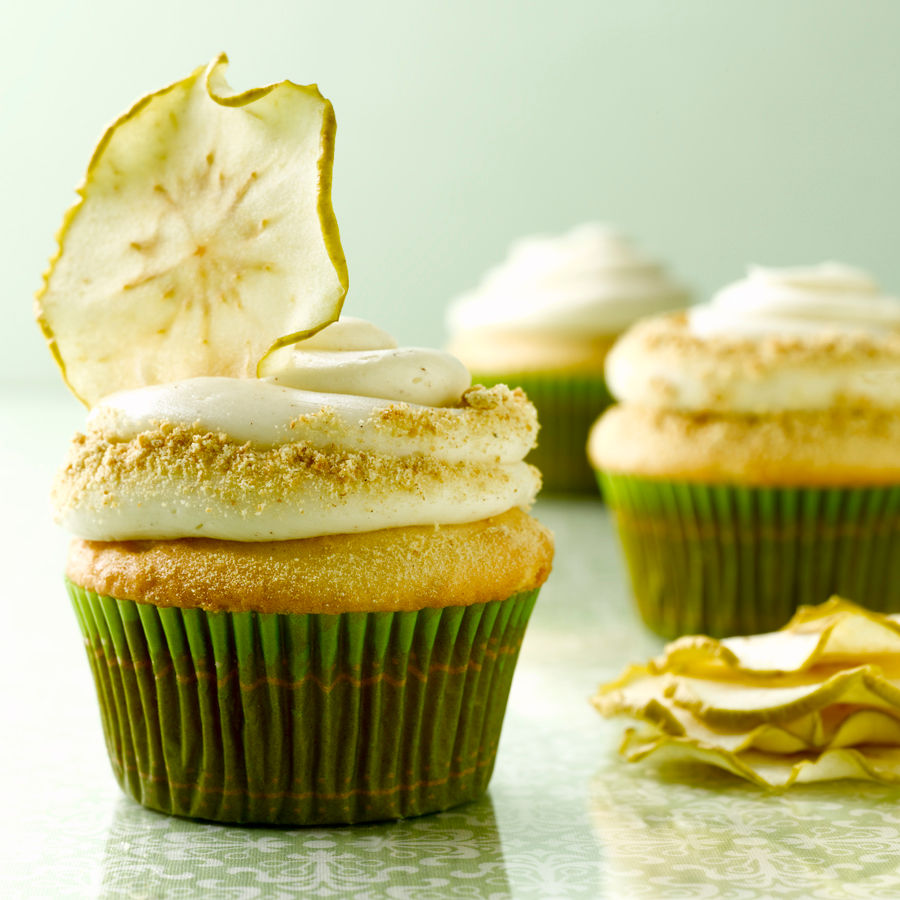 APPLE DELIGHT CUPCAKES from Royal Caribbean Cruise Line
SERVINGS
Makes 18 large or 36 mini cupcakes
INGREDIENTS
Cupcakes:
2 cups (465 g) all-purpose flour
2 teaspoons (10 g) baking powder
1/2 teaspoon (2.5 g) baking soda
1/2 teaspoon (2.5 g) salt
1 cup (235 g) packed light brown sugar
4 eggs
1/4 cup (60 g) unsalted butter, melted
1 teaspoon (5 g) ground cinnamon
2 apples, peeled, cored and diced
1/3 cup (85 g) golden raisins
Apple Crisps:
1/4 cup (60 g) sugar
1/3 cup (90 ml) water
2 apples, washed and thinly sliced
Frosting:
1 teaspoon (5 g) ground cinnamon
1 pinch ground nutmeg
Garnish:
½ cup (115 g) graham cracker crumbs
DIRECTIONS
Preheat oven to 350°F or 180°C.
Line muffin cups with paper liners.
Combine flour, baking powder, baking soda, salt and sugar in a medium-size bowl and whisk.
Add eggs and butter and beat with an electric mixer set on medium to high speed for 2 to 3 minutes or until smooth.
Fold in cinnamon, apples and raisins.
Spoon the batter into the cups and bake for 20 to 22 minutes or until a toothpick inserted in the center of the cupcakes comes out clean.
Remove cupcakes from the baking pan and let cool on a wire rack.
Lower oven temperature to 300°F or 150°C.
For apple crisps, prepare syrup by mixing sugar and water in a small saucepan and bring to a boil.
Carefully allow to boil until sugar has melted. Do not brown. Remove from heat and let cool.
Dip each apple slice into syrup and place on a baking sheet lined with parchment paper.
Bake for 40 to 50 minutes or until apples become crisp.
For frosting, mix simple vanilla frosting with cinnamon and nutmeg in a glass bowl for 1 minute.
Spoon frosting into a piping bag or sandwich bag fitted with a large round tip.
Pipe frosting onto each cupcake, in a counterclockwise motion.
Garnish each cupcake with graham cracker crumbs around the edges and top with an apple crisp.
Available onboard all Royal Caribbean cruise ships with The Cupcake Cupboard.
Visit Atlas Cruises & Tours blog section dedicated to cruise line recipes or follow our cruise line recipe board on Pinterest.