Wondering what to do with leftover candy?
No need to throw it away! You can chop them up and use them in cookie, cupcakes, bundt cake or truffles.
Real Simple magazine shared clever recipes last year while on the Today Show, for leftover goodies, and we wanted to repost for those who missed it.
Candy Corn and Pretzel Bark
Ingredients
White chocolate
Pretzels
Candy corn
Dried cranberries
Preparation
Line an 8-inch square baking pan with parchment, leaving an overhang.
Spread 8 oz melted white chocolate in the prepared pan and sprinkle with 1 cup miniature pretzels, ½ cup candy corn, and ½ cup dried cranberries.
Chill until firm.
Remove from pan and break into pieces; serve.
We also have our own Candy Bark recipe if you want to check it out!
___________________________________________
Recipe: York Peppermint Pattie brownies
Preparation
Prepare a 19-oz. box of brownie mix.
Spread half the batter in an oiled 8-inch square pan.
Top with 16 York Miniatures Peppermint Patties (12.6 g each), leaving borders of batter.
Spread remaining batter on top.
Bake according to directions on box.
Cool and cut into 16 squares.
(We added frosting and chocolate sprinkles – pictures to the right.)
____________________________________
Recipe: Dulce de leche and Snickers terrine
From Real Simple
Ingredients
14 Snickers Fun Size Bars
2 pints softened dulce de leche ice cream
Preparation
Line an 8-by-4 ½ inch loaf pan with parchment paper, leaving an overhang.
Cut 14 Snickers Fun Size Bars in thirds (17 grams each; about 1 ½ cups total); arrange on bottom of pan.
Top with two pints softened dulce de leche ice cream.
Press gently to settle the ice cream.
Freeze until firm; 6 hours.
Invert onto plate and slice.
___________________________________
Recipe: Frozen Reese's banana pops
Real Simple
Ingredients
Reese's Peanut Butter Cups
Bananas
Chocolate (melted)
Preparation
Halve 2 bananas crosswise.
Insert a stick into each piece.
Freeze the bananas and 4 Snack Size Reese's Peanut Butter Cups (21 grams each) for 2 hours.
Chop frozen candy.
Coat frozen bananas in 6 ounces melted chocolate; sprinkle with the candy.
Freeze on a parchment-lined plate until firm.
___________________________________
Candy Bar & Apple Salad
Ingredients
1 pack instant vanilla pudding
1 1/2 cups reduced fat milk
8 ounces of Cool Whip
4 snickers bars cut into squares
4 large apples also chopped since squares
Preparation
Prepared pudding with milk and let stand for a few minutes.  Stir in the remaining ingredients and refrigerate until ready to serve.  Place in parfait or tall glass.
___________________________________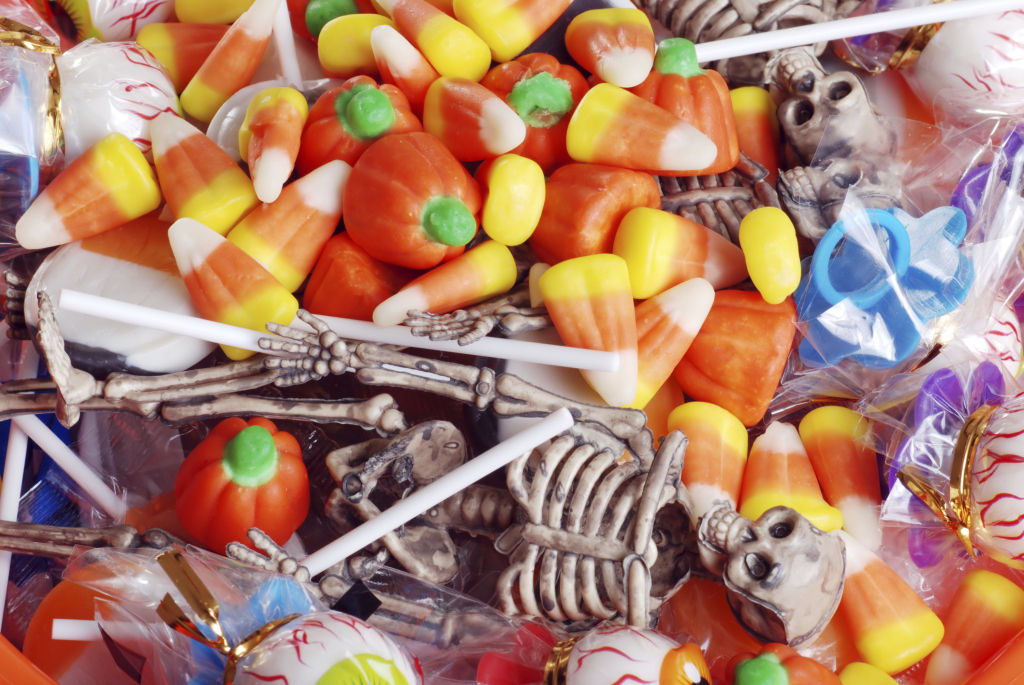 Now that Halloween is over you are probably wondering what to do with all of that leftover Halloween candy. Don't worry, you and your kids don't have to eat it all. We've created a list of some of the ways that you can reuse some of these leftover treats.
Use It In Different Dishes
You can spice up your Halloween candy by putting it in a dish. Chopped up chocolate bars can be put into cookie or cake recipes. You can also top your ice cream with pieces of candy.
___________________________________
Do A Science Experiment
You can turn that leftover Halloween candy into a science experiment. For example you can place chocolate bars in the microwave and see if the ones with a filling melt faster than the ones that are just plain. You can also take hard pieces of candy and see if you can predict which ones will float and which ones will sink. If your family has a lot of patience, try the gummy science experiment. Simply place a gummy candy into some water and watch it expand over several days as it absorbs water.
____________________________________
Make An Ornament
With Christmas just around the corner, why not make an ornament with some of that leftover candy? To make, you will need to preheat your oven to 350°. Place aluminum foil onto a baking sheet. Place several cookie cutters on top of the aluminum foil. Spray both the aluminum foil and the cookie cutters with cooking spray. Put a single layer of hard candies into each cookie cutter. Place the baking sheet into the oven and let the candies bake until they are melted, which should be about 5 minutes. Remove the baking sheet from the oven and let sit for two minutes. Take a knife and make a hole in the top of each of the ornaments. Gently remove the cookie cutters. Lift the ornaments, one by one, off of the baking sheet and thread a piece of ribbon through each hole so that you can hang them onto your Christmas tree.