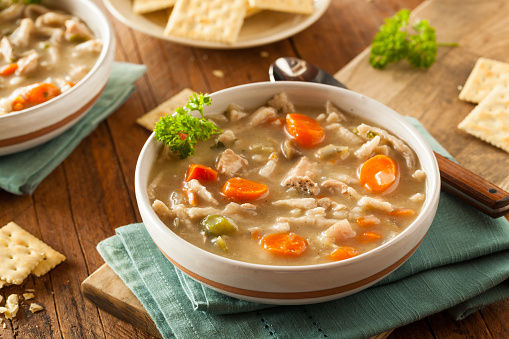 I have been sick all week and looking for a good chicken soup recipe and I found this one by my friend Renee.
Comforting Chicken Noodle Soup
Ingredients
5 cups of chicken stock (or water)
Chicken thighs, cooked or uncooked and chopped (I used 3 to 4…depends on their size.  You can use breast meat, or whatever you'd like)
3 to 4 garlic cloves, peeled and minced
1 onion, peeled and diced
3 to 4 carrots, diced (I like a lot…you can use 2 if you'd like less)
3 to 4 celery, diced (same as carrots, use 2 if you'd less)
2 to 3 parsnips, diced
2 small red potatoes, diced 1 bunch of kale, chopped (or other dark leafy green of choice)
1/4 cup of uncooked pasta (I used quinoa swirls.  You can use rice instead, too)
1/4 cup parsley
2 teaspoons, sea salt
1 teaspoon, pepper
1 to 2 tablespoons, butter
1 to 2 tablespoons, cinnamon
Directions
1. Dice all veggies (garlic, onion, carrots, celery, red potatoes, kale, parsley) and chicken.  Set aside garlic, parsley and kale.
2. Add broth, onion, carrots, celery, red potatoes and chicken, if uncooked and salt to a pot and boil.  Once boiled, cover, reduce flame and let simmer for 20 minutes.
3. After 20 minutes, add uncooked pasta.  Continue to simmer for another 8 to 10 minutes.
4. Add garlic, parsley and kale.   Let simmer for another 5 minutes or so.
5. Once done, add in 1 to 2 tablespoons of butter (I always add some healthy fats to my soups so I can absorb the fabulous nutrients better!) and cinnamon (I always add cinnamon ever since I had chicken soup from Whole Foods when I was studying nutrition in NYC.  I never found the actual recipe, but I fell in love.  It reminded me of Thanksgiving!  Try it if you'd like!).
6. Place soup ever in your favorite serving dish.
7.  Turn off all distractions, sit down by yourself or with your family, take a few deep breaths, say how much gratitude you have for your food, your family, your life and dig in, slowly and savor the deliciousness!
©  2011 Renee Yemma ® All Rights Reserved.
Renee C. Yemma, Holistic Health Coach.  She is a mother, writer, teacher, coach, photographer and so much more.  To receive weekly healthy living articles on loving delicious, nutritious foods and putting YOU first without feeling guilty about it, visitwww.reneeyemma.com.