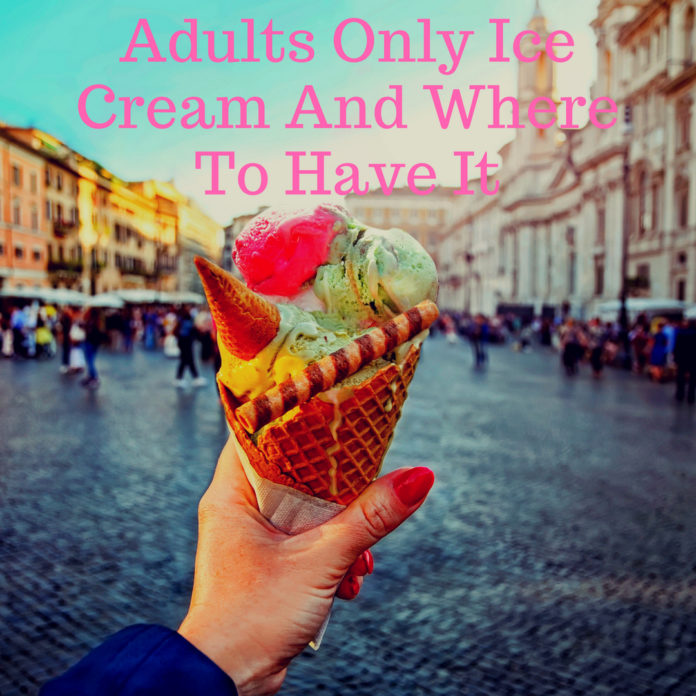 Ice cream isn't just for kids. You can get your ice cream fix and enjoy an adult beverage at the same time. Or, if you are looking for a really fun dessert, you can infuse the two! The following ice cream parlors cater towards grown-ups by offering "adults only" ice cream concoctions.
Butter & Scotch In Brooklyn
There are so many great booze infused ice creams to try here that you might find it difficult to have just one. For example, the Pretty in Pink drink contains strawberry ice cream plus some selter, Rose' and Aperol. Now if you'd prefer to keep your alcohol separate and enjoy a drink right along with one of your favorite desserts, go for the Mary Ellen. It is a hot fudge sundae and a vodka martini. One of the founders' grandmothers is it's namesake.
The Ice Cream Bar In San Francisco
When you walk into this ice cream joint you will feel as if you are in an old time ice cream parlor. The soda jerks wear paper hats and bow ties. The adults only items are for those that want a seriously good alcoholic dessert. The Fortunato's Reviver is a favorite and it's made with nuts, honey, vanilla ice cream and sherry among other things. If you are in the mood for a float, try the Dublin Honey as it features honey flavored ice cream and Guiness.
The Tipsy Scoop In New York City
Even New Yorkers like to get in on the fun of having ice cream created just for adults. This ice cream parlor likes to use local ingredients in addition to a variety of alcohol. Not only do they offer traditional scoops of ice cream, but things like ice cream sandwiches infused with vodka. If you want to try a lot of different ice creams or share some with your friends, get a "Flight". It comes with four different flavors and is surprisingly affordable at only $8 if you order one during happy hour during 4 p.m. to 6 p.m.
Prohibition Creamery In Austin
With the word "prohibition" in its name, you know that this ice cream parlor will be serving up something good. There are a ton of booze infused options here like the pecan buttered rum or the whiskey chocolate. You can even top your ice cream with things like brownie pieces that contain liquor. A favorite among patrons is the Deconstructed Old Fashioned. It contains candied oranges, marshmallows, bourbon ice cream, cherries and bourbon whipped cream.
Buzzed Bull Creamery In Cincinnati
This is an ice cream shop and a bar all rolled into one. One of the interesting things about this place is that they use liquid nitrogen to freeze their creations. How it works is that you first choose a base flavor like the honey bourgon and then add things to it like candy, nuts and fruits. If you aren't in the mood to customize anything, go for one of the house creations like the Bonfire that contains Fireball, marshmallows, chocolate chips and graham cracker pieces.