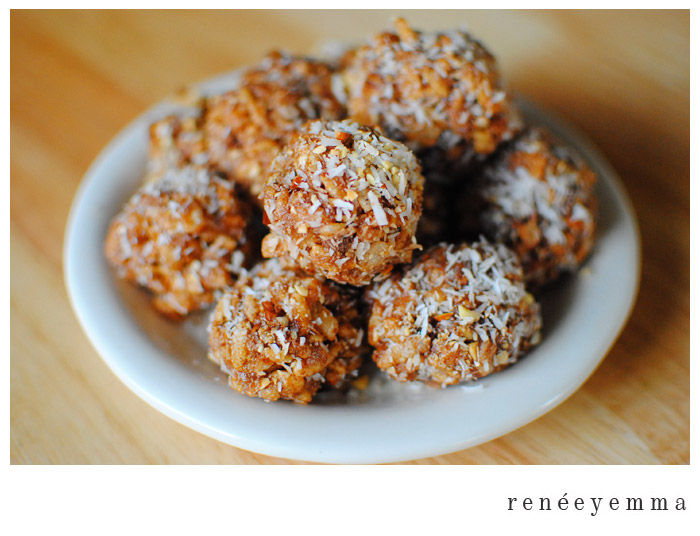 Looking for a healthy alternative to rice krispee treats? Our good friend from Get Innergized with Renee is sharing a great healthy alternative. The great thing about these,  is that they're filled with almonds and they're sweetened with brown rice syrup.  You wanna know why that's great? The protein from the almonds balances the sugar and the brown rice syrup is a natural sweetener, so both won't raise blood sugar levels as quickly as it would from eating sweets without added protein or with white sugar.  Score!
If you like to get your hands messy when you cook and/or bake, then you're going to LOVE this recipe. If you have kids, they'll probably love getting their hands messy, too!  So definitely have them help you with this one.
Coconutty Almond Butter Balls
Ingredients:
2 cups Crispy Brown Rice Cereal
1/2 cup of Almond Butter (smooth or crunchy – your choice!)
1/2 cup of Brown Rice Syrup
1/2 cup of chopped almonds
1/2 cup of shredded coconut
1/4 cup of chocolate chips
1 teaspoon cinnamon (or more if you'd like)
Directions:
1.  Place Crispy Brown Rice Cereal in a bowl and set aside.
2. Place chopped almonds and shredded coconut in a bowl.  Mix together.  Set aside.
3. Turn stovetop to medium heat.  Add almond butter, brown rice syrup and cinnamon to saucepan.  Mix over heat until creamy.
4. Once mixture is creamy, take off heat and let cool for a minute.  Then mix with crispy brown rice cereal.  Use hands to mix well.
5. Add in chocolate chips.  Mix together.
6. Roll into palm-size balls.  Then place in almond/coconut mixture and roll until completely covered.
7. Place in storage container.  Then let cool in refrigerator for 20 minutes or so.
8. Keep in refrigerator until they're all eaten up.  They can be enjoyed straight out of refrigerator or thawed for a few minutes before eating.  To each is own! 

9. Turn off all distractions, sit down by yourself or sit down with your family, take a few deep breaths, say how much gratitude you have for your food and your family and friends and dig in, slowly!
Variations:  Add in raisins for more sweetness.  Use a different type of nut butter: peanut, cashew, sunflower.
Recipe adapted from: Andrea Beaman
©  2011 Renee Yemma ® All Rights Reserved.
Renee C. Yemma, Holistic Health Coach.  She is a mother, writer, teacher, coach, photographer and so much more.  To receive weekly healthy living articles on loving delicious, nutritious foods and putting YOU first without feeling guilty about it, visitwww.reneeyemma.com.